Lord Coe praises team spirit as he receives award for London 2012 Games success
Lord Coe was keen to praise everyone who contributed to making the London's Olympic and Paralympic Games a success.
Last Updated: 07/03/13 4:28pm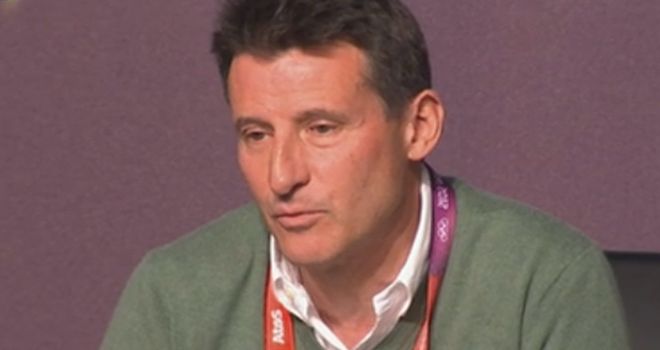 Coe was made a member of the Order of the Companions of Honour by the Princess Royal during an investiture ceremony at Buckingham Palace for his work as head of the London Organising Committee of the Olympic and Paralympic Games (Locog).
But Coe, who also paid a vital role in helping London's bid to secure the 2012 Games, insisted last summer's achievement was a team effort.
"It's a lovely honour and I'm deeply flattered but it is really signal recognition for the extraordinary work of so many people," said Coe, who was recently appointed chairman of the British Olympic Association.
"Our teams at Locog but also the people of Britain whose generosity of spirit helped get us across the line.
"The thing that always makes me most proud is the community effort that went into this, whether the teams at Locog or the armed services during the Games themselves, all our volunteers, our business and commercial partners - everybody played a part."
A host of Olympians and Paralympians were also presented with honours by Princess Anne, including David Weir, who was awarded a CBE after winning gold in the 800m, 1500m, 5000m and the T54 Marathon wheelchair events in London.
"It was just a special time for any Paralympian - we knew it was going to be big because it was going to be in our home city, but just to go out and hear that crowd every day was just an amazing feeling," said Weir, who is nicknamed the Weirwolf.
"It was the first time we didn't feel disabled, we felt like athletes, we felt like Olympians - we felt like we should have been there.
"Seeing that stadium full for morning sessions was just unbelievable, it was just a dream come true.
"I felt like I was dreaming all the time, I just felt 'This is not real'. I thought someone was going to wake me up and I was going to race into an empty stadium.
"I felt so proud to be British and we pulled that off. You've got to thank Seb Coe and Locog and everyone else for telling us it would be the best Paralympics ever."
Olympic rowing champion Kath Grainger, who was awarded an MBE in 2006, received her CBE for finally winning Olympic gold with double sculls partner Anna Watkins after three successive silver medals.
"I thought that the gold medal meant everything but this is the icing on the cake," she said after collecting her award.
"The Olympic medal is something you train for and it is realistic that you can get it but something like this is bestowed on you and it is a great honour to get it."