London 2012 organisers say Olympic Park swimming pools demonstrate Games legacy
London 2012 say opening of 50-metere swimming pools in Olympic Park this weekend proof of legacy left behind by Games
Last Updated: 25/02/14 7:21pm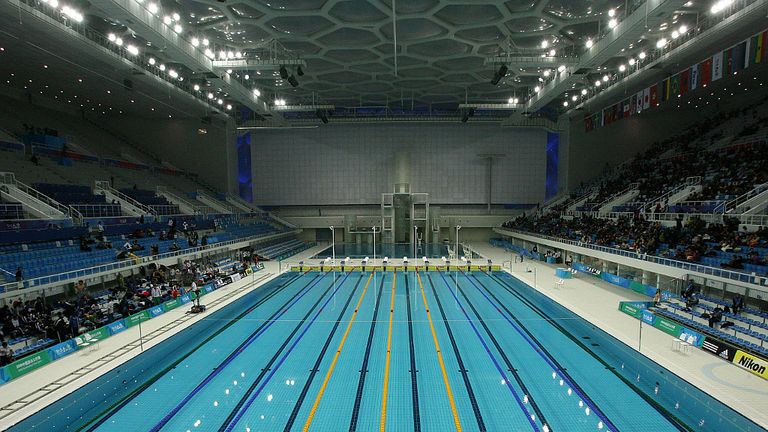 Team GB picked up a record-breaking 29 gold medals during the Games in London and have followed up that success by winning four medals at the Winter Olympics in Sochi.
A Parliamentary report in November suggested London 2012 had failed to inspire people in this country to take up sport.
But London Legacy Development Corporation spokesman Dennis Hone says the opening of the Olympic-sized swimming pools this weekend is a win-win situation for everyone.
"The centre's going to be open from 6am in the morning to 10pm in the evening," Hone said. "That means we've got 16 hours every day so we've got plenty of time to accommodate elite athletes and schoolchildren with the general public also coming in."
Lizzy Yarnold claimed Britain's only gold at Sochi in the skeleton despite the fact there is not a single track in the country.
Sheffield Ski Village - where half of the country's Olympic freestyle skiers trained up until two years ago - was burnt down in 2012 and remains derelict.
Peter Cutler of Peak Performance Snow Sports Club, which is affiliated to Snowsport England and the Yorkshire Ski Federation, believes it's harder than ever for British winter sports athletes to compete.
He said: "There are so many kids at the Olympics now Katie Summerhayes, Woodsy (James Woods), David Ryding who have all come off dry slopes and they've nowhere to start.
"That's where they all came from the dry slopes and we are just losing facilities - it's a great shame."
Team GB enjoyed medal success in curling in both the men and the women's events at Sochi yet England and Wales have just one curling rink between them.
David Murdoch, who helped Team GB's men to a silver medal in Sochi, hopes their recent success will result in greater investment in the sport.
"You've seen the support that we've had up and down the country and people really want to get involved in curling," Murdoch said.
"It would be a shame for them not to have an opportunity to play the game, so hopefully we'll have some kind of government push to try and get some more facilities in the country."