Milestone moments
Mel Clarke hopes that archery and disabled sport in general can build on the success of the Paralympics.
By Oli Burley - SkySportsOli
Last Updated: 20/09/12 3:20pm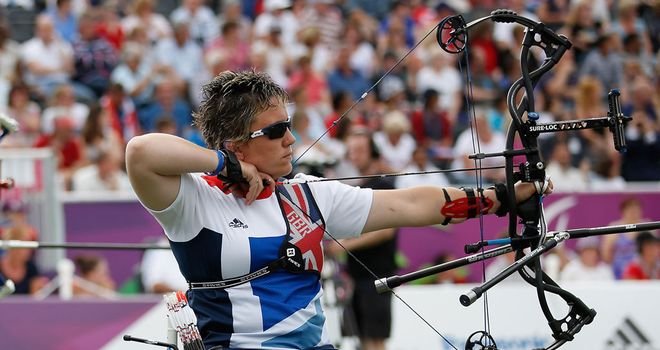 Only now is Mel Clarke able to fully absorb the greatest moment of her archery career so far.
The 30-year-old is still on a high and can't wait to get back into her role as a Sky Sports Living for Sport mentor after winning silver for ParalympicsGB in the individual compound final, not least so she can share some of her London 2012 experiences.
"I enjoy listening to young people and passing on my stories - and now I've definitely got some new ones," says Clarke, a bronze medallist at the 2008 Beijing Games.
"It's so important to work through problems and learn how to perform under pressure, but even I wasn't ready for the challenge of shooting with such a fantastic crowd behind me!
"I went and sat in one of the stands at the Royal Artillery Barracks before I competed and visualised what it would be like to shoot in front of so many people, so I thought I'd be prepared, but when I went into the court it was completely different from what I imagined. Despite all of the work I'd done, I actually felt a lot more nervous than I expected."
Unreal
Clarke's first appearance at this Paralympics was a milestone moment twice over as her quarter-final match against Japan's Miho Nagano fell on her 30th birthday.
"It was certainly one to remember," says Clarke. "It was the first time that I shot in the court, so it was quite a daunting moment but my coach and some of my family and friends had come down to watch and it was nice to see them.
"I got through my match and as I went to leave the stadium a couple of them started singing 'happy birthday'. It rippled around the crowd and suddenly there was the best part of 3,500 people singing to me, which was unreal!"
Clarke, who is paralysed from waist down and has lost the sight in one eye, surged into the final with a 6-0 victory over Russia's Stepanida Artakhinova and took team-mate and current World No 1 Danielle Brown down to the very last arrow in the battle for gold.
The pair were reunited at the London 2012 Parade and Mel admits that the atmosphere created by the hundreds of thousands of people lining the streets was overpowering.
"Our bus was making its way through the crowds and we were just saying how awesome it was when we turned a corner and saw a crowd of people who must have been 30-40 deep," says Clarke. "Some had signs up saying how proud they were, while others were in tears. I was like 'wow'.
"I didn't realise quite how much of an impact the Olympics and Paralympics had had on the public. We had an idea but when you're in the athletes' village you are isolated to some extent. So to see that many people standing there and cheering is something I'll never forget.
"The publicity that the Games have generated for archery and disabled sport in general has been fantastic and I hope it's something we can build on."
Developing
Earlier this month Archery GB launched a new initiative called 'Arrows' which aims to encourage more primary schools to take up the sport using child-friendly equipment and Clarke fully intends to keep spreading the word on her secondary school visits.
"Films like 'Lord of the Rings' and 'Brave' have brought archery into the news much more than it was 10 years ago," she explains.
"They've helped to make the sport more accessible because, unlike football or basketball, it's not one that a child can necessarily pick up instantly but it is fantastically fun and great for developing skill, co-ordination and self-control."
Those attributes have taken Clarke to the pinnacle of her sport and in the coming weeks she'll sit down with her coach and decide whether she wants to go for gold at Rio in 2016.
Now, though, it's time to reflect on a job extremely well done.
Mel is an Athlete Mentor for Sky Sports Living for Sport - a free secondary schools initiative that uses sport stars to improve life skills. Find out more and sign up today by clicking HERE.