Goldie looking great
Colin Jackson told Sky Sports News HD that he expects Goldie Sayers to strike javelin gold in 2012.
Last Updated: 27/07/11 3:04pm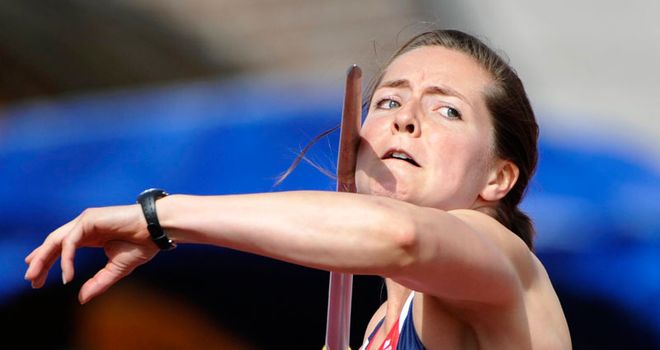 Colin Jackson is backing Goldie Sayers to be one of Great Britain's golden generation at the 2012 Olympics.
The 110m hurdles silver medalist expects the Belgrave Harrier to be one of the stars of the track and field show in the women's javelin next summer.
Sayers missed out on a medal by just 38cm in Beijing in 2008 and has since struggled with injury
But she is back on form and is still the British record holder with 65.75m at the last games - and along with Jessica Ennis, is one of Jackson's tips for the top in 12 months' time.
"Twelve months is a long time but I think you've got to look at Jessica Ennis to come through and someone like Goldie Sayers in the javelin," he told Sky Sports News HD.
"She's been injured a lot but has bounced back remarkably well. Greg Rutherford in the long jump is someone else I look forward to watching perform. There's many athletes for British fans to look out for."
Before Sayers, Ennis and the rest of the Great Britain team take to the Olympic Stadium in East London, they must first compete in the World Championships in South Korea in September.
Extremes
Jackson admits that it makes the next few months difficult for athletes but rather than be a hindrance, the Welshman says that such an important event help prepare them for the most important two weeks of their entire career.
"It's a tricky thing balancing these major championships out but what you do is use it as a stepping stone," he said.
"It can make a massive difference; they will be looking at their opponents, who their major rivals are going to be, who's on the fringe likely to come through.
"They've worked very hard for a very long time and they know now, why they're here.
"They're here to compete but at the same time you don't want to wrap yourself in cotton wool. You've also got to push yourself to the real extremes because you want to get the best out of them at the right time.
"They will still be working, still be focussing, working hard because they know the goals that are ahead."