Cavendish relishes Olympic recce
British star Mark Cavendish will headline an elite field for the road cycling Olympic Test event in London on Sunday.
Last Updated: 14/08/11 2:08pm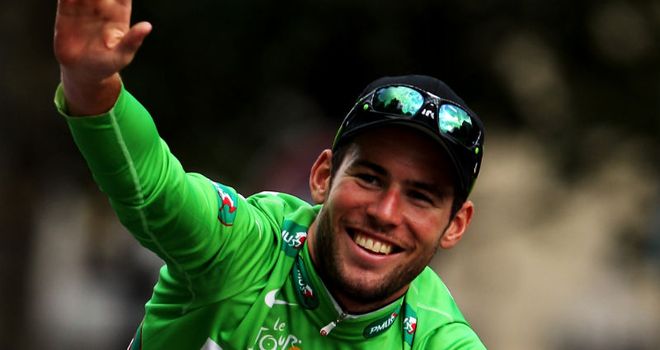 Mark Cavendish believes Sunday's road cycling Olympic test event will provide invaluable experience ahead of next year's Games.
The 26-year-old will form part of a strong field that will compete at the London-Surrey Cycle Classic, which will offer a glimpse of 2012's road race.
Thousands are expected to line the course that will start and finish in The Mall in central London, with the 140km course passing through six London boroughs, four Royal Parks and a looped route around Box Hill in Surrey.
Australia and Britain have sent strong line-ups to the event and are considered favourites, although Cavendish insists it is more a chance for athletes to test the course.
"It is going to be a strange race," he said.
"It is only going to be 140km and pros are used to double that.
"I know for me I will just be kind of getting warmed up as the race is finishing and I think most of the Brits and Aussies will be similar to that.
"I don't think it will play out like a proper professional race due to the five-man teams and the length of the race so I really don't know.
"For me it is more of a recce. It would be nice to win but it is about more than me winning. It is nice to get a win in GB colours."
Plenty to learn
"We have got a group of five guys and we'll try to win the race whether that is me or somebody else.
"For me, it is just seeing what the course is like.
"You won't get too much of a feeling as it is two laps rather than nine but you get a good feeling of the run-in, which is quite important.
"I know the roads in London, I've obviously been round there a bit and been down the last few kilometres in a car but never really on a bike so that will be good to see."
Cavendish believes competing at the Olympics on home soil will be "special" but does not think the Games feel imminent despite Sunday's race.
The Manxman will travel to Denmark next month for the World Championships in Copenhagen and will be looking to replicate his green jersey-winning performance at next year's Tour de France.
Cavendish admits it has taken three weeks to recover from this year's Tour but thinks athletes will be able to balance next year's exertions despite their close proximity.
Dual priorities
"It will be the same for most people," he said. "I don't think anybody is going to miss the Tour for the Olympics.
"I think most of the guys that are in with a shout for the Olympics will be doing the Tour anyway.
"It will make a difference individually as a rider but compared to the others it should be quite relative.
"It all depends on how the course is for the Tour next year anyway.
"If it is like this year, then it has taken three weeks to recover but the year before wasn't as hard."