Naismith backs GB
Scotland international Steven Naismith has defended a player's right to choose to represent Great Britain.
Last Updated: 14/12/11 7:17pm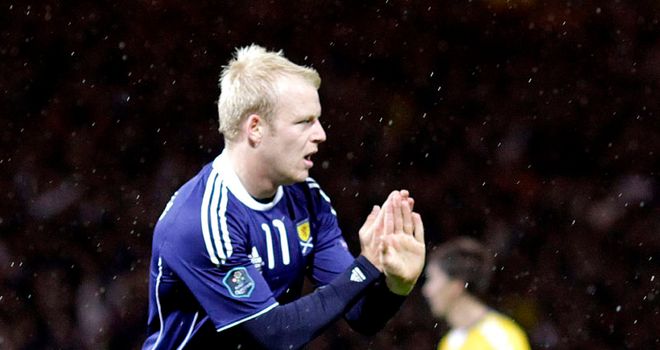 Scotland international Steven Naismith has defended a player's right to choose to represent Great Britain in the Olympics.
The Scottish Football Association, like their counterparts in Wales and Northern Ireland, are against their players competing in next year's Games amid fears over the national team's independence.
Naismith, 25, would need to be one of three over-23s selected by Stuart Peace in order to make the squad and he thinks any player would relish the opportunity of showcasing their talents.
The Rangers forward is proud to be Scottish and insists playing for Team GB in the Olympics would not affect his commitment to the cause.
Agenda
"The SFA have their thoughts and that's full credit to them," explained Naismith.
"I fully don't expect to be involved but if you're a younger player and totally selfishly looking at football and no other agenda, it's another chance to show the world how good you are.
"Playing in a team with some of the best players in Britain and against some of the best players in the world, as a footballer you would be crazy not to think about it."
When asked if he would be willing to incur the wrath of the Scotland fans to play, Naismith said: "You need to look at everything. My gran was born in England, my dad was born in Wales.
"I had the chance to play for Wales at under-21 level but I chose Scotland because I'm Scottish and proud to be Scottish.
"People just have to look at the facts and weigh up their decision."
Perspective
Meanwhile, Naismith admits his own injury problems were put into perspective by the news that national captain Darren Fletcher needs an extended break from football because of illness.
The Gers man is in the early stages of rehabilitation from the second cruciate ligament injury of his career while the Manchester United midfielder is struggling with a chronic inflammatory bowel condition, something he says is not comparable.
"I texted him to say his health is the main thing in life, there is no point going through this and having something wrong with you for the rest of your days," he continued.
"It does put it into perspective. You have got to have your 100 per cent health and that's the main thing.
"It's not surprising knowing Darren the way he is, how committed he is, how much of a winner he is and how professional he is. In the short time I have been in the national team I have learnt a lot from him.
"I've read and seen in interviews that there's a lot of the young players have been like that. That will be another thing that is missing - the younger boys taking so much from him off the park as well as on.
"I've picked up so much from him, how professional you need to be and the way you need to train to get the most out of your ability. One of the first things I noticed was how professional he was."