Awesome Adlington
Rebecca Adlington producing an astonishing display at the ASA National Championships.
Last Updated: 22/06/12 11:12pm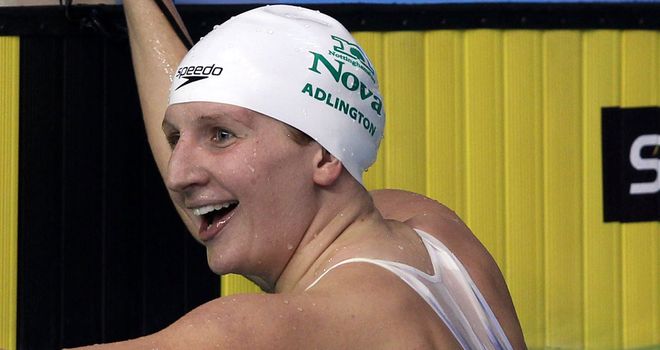 Rebecca Adlington produced a stunning display to win the 800 metres freestyle at the British Gas ASA National Championships in Sheffield.
The double Olympic champion is in the midst of heavy training which at its height sees her plough through 70km a week, but that proved no barrier as she won in eight minutes 19.03 seconds, half a length ahead of Eleanor Faulkner in second.
It is the second fastest time in the world this year and one only the Nova Centurion swimmer herself has bettered.
Her effort at Ponds Forge eclipsed by 0.93secs her time in Barcelona earlier this month and only Adlington has gone inside 8mins 20secs this year.
The Mansfield-born swimmer said: "I can't talk! That was so painful, far more than Barcelona. It's hard when you are on your own mentally to keep tough.
"I felt really sore, I'm really tired. I didn't expect to do that.
"I would have been happy with mid 20s. I am so shocked with that, I don't know what to think - I'm too tired to even think."
Despite her form this year, Adlington fully expects surprises in London, just as she was catapulted into the public eye with her victories in Beijing.
She said: "I am a lot more older, I am much more experienced, I've changed as a swimmer, I've changed as a person, as a woman. I'm totally different now, I've grown up.
"I'm not under the illusion that there is not going to be a Becky Adlington coming out of the woodwork like there was in Beijing.
"I think you have to expect the unexpected at a Games: they are totally unlike any other meet and you have to treat it like that.
"It's not like worlds, it's not like Commonwealths, people just come out of the bag in Olympic year. It's exciting, it's interesting, I can't wait to be part of that."
Siobhan-Marie O'Connor served up further evidence of a bright future for Britain when she claimed the second slot in the 100m breaststroke.
The 16-year-old was deeply hurt at missing out on qualification for Team GB in the 200m individual medley, in which she is European junior champion, at the first Olympic trials in March.
The disappointment, though, galvanised the Bath ITC swimmer, who responded by qualifying with victory tonight in 1:08.04 - an improvement of more than a second on her best before the meet.
For O'Connor, London will be her second global meet after she finished 13th in the medley at last year's World Championships at the grand old age of 15.
Shocked
She was overwhelmed and close to tears, saying: "I am so shocked. It is the happiest I've ever been.
"It was hard after the disappointment in March to get back and get motivated. I could never see myself going for this at the start of the year.
"I like the event but I was focusing on the 200IM but after trials there was that slot so I just gave it my everything in training, focused on breaststroke to try to bounce back.
"I just thought 'you've got nothing to lose' and I just can't believe it. With qualifying for worlds last year there was so much pressure on me, I put pressure on myself (at the first trials).
"It just really hurt me, I wanted it so much after that, after trials I needed to get back and wanted to prove myself I could do it."
Florida-based Stephanie Proud joined Lizzie Simmonds on the team for the 200m backstroke with a dominant victory in 2:09.40 while Chris Walker-Hebborn added the 100m backstroke to his programme after qualifying over 200m last night with a 54.26 win.
Highly-rated 17-year-old Matthew Johnson came from fourth at the final turn to win the 400m individual medley (4:18.28) - although both slots were taken in March, while Adam Brown's 50m freestyle victory in 22.36 was not enough to add an individual event to his place on the sprint relay squad.
Amy Smith took the women's equivalent (25.36) which she and Fran Halsall will contest in London.