Chambers hopeful
Dwain Chambers believes the pressure of trying to secure an Olympic place will bring out the best in him.
Last Updated: 23/06/12 7:14am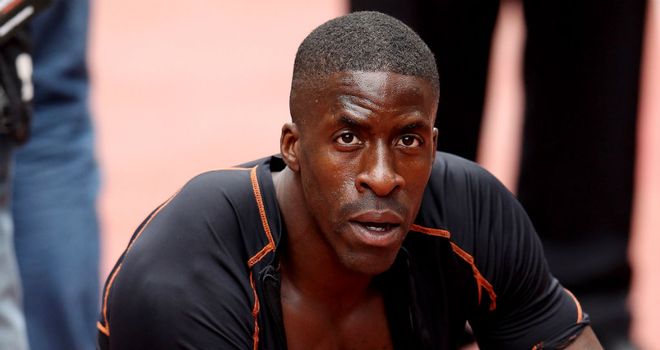 Dwain Chambers believes the pressure of trying to secure an Olympic place will bring out the best in him at the trials in Birmingham.
Chambers has not yet recorded an Olympic 'A' standard qualifying time of 10.18 seconds that would allow him to seal a place in London by finishing in the top two in the 100m final.
But the 34-year-old, who was cleared to compete in the Olympics when the British Olympic Association's lifetime ban on drugs cheats was overturned, is aiming to come good when it comes to the crunch at the Alexander Stadium.
"I want to run fast but I'll just have to do the best I can with the resources I've got and just go for it," Chambers said. "It's situations like this when I run my best so I've got to be at my best.
"The main thing is I want to get through the championships in one piece and hopefully that enables me to secure the qualifying time. Normally I'm on the top (of the national rankings) so it is a bit daunting that I'm lower down, but I've just got to take each day as it comes.
"Things have happened that have not enabled me to have a smooth journey but I've got to put that to one side and do a good job this weekend."
Contenders
All of the major contenders came safely through the heats on Friday evening, including teenager Adam Gemili and James Dasaolu - the only two Britons with the 'A' standard.
Gemili won his heat in 10.27s, while Dasaolu was happy enough to settle for second in his heat in 10.45s.
Another close contest is expected in the men's 400m hurdles, with world champion Dai Greene joined in the final by the four other men who have achieved the 'A' standard - Nathan Woodward, Rhys Williams, Jack Green and Richard Yates.
The Welshman, who recently revealed he underwent knee surgery in December, said: "It hasn't been a perfect start to the season but things are getting better. I'm still on track for peaking in the summer. Training-wise things have improved massively. I can feel myself getting better all the time. I feel like I have turned the corner."
Fellow world champion Mo Farah was scheduled to contest the 1,500m final after deciding to work on his finishing speed here rather than compete over 5,000 or 10,000m, but Phillips Idowu was to be found at the Hackney Weekend music event in his native London after withdrawing from the triple jump.
Although Idowu will be able to rely on the discretionary place available to selectors, his absence sparked major injury concerns just six weeks before the athletics action gets under way in London.
Idowu, 33, has competed just three times in 2012 and suffered an unspecified injury on his last appearance, which was in the Diamond League meeting in Oregon on June 2.