Egelstaff thankful
Great Britain's Susan Egelstaff will complete a remarkable comeback from injury as she makes her Olympic debut.
Last Updated: 27/07/12 5:07pm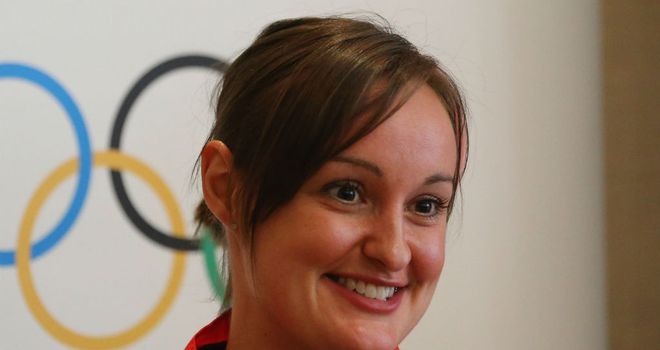 Great Britain's Susan Egelstaff will complete a remarkable comeback from injury as she makes her Olympic debut this weekend.
The Scot feared her chances of playing at London 2012 were over after she fell during a match and shattered her thigh bone last October.
The 29-year-old required surgery and was told she would be out of action for at least six months during the Olympic qualifying period.
But she battled back to fitness and returned to court in February in just enough time to hold off the challenge of Jersey's Liz Cann and earn a place in Team GB.
The world number 38, who begins her campaign with a group match against Slovenia's Maja Tvrdy, said: "My thigh bone and shin bone smashed against each other and smashed the bottom of my thigh bone.
"I had to get all the bits of bone floating about my leg removed. It was very serious but luckily I managed to come back from it.
"I came back two-and-a-half months ahead of schedule from what my surgeon predicted. If I had been on his schedule I don't think I would have made it.
"I worked really hard on my rehab and managed to play quite well quite quickly, but the qualifying period is hard enough without doing something as bad as that."
Experience
Despite the rankings being close during the qualifying battle, Cann was unable to take advantage of her rival's absence and was 12 places behind when the Olympic race ended.
Egelstaff, who won bronze at the Commonwealth Games in 2005, now wants to enjoy the experience.
The Glaswegian said: "The qualifying is very stressful because so much depends on it, and it seems like the longest year of your life, but this is really exciting.
"I pretty much thought my chances were gone and it is unbelievable to make it. I just want to play well because it has been such a tough year. I just want to perform well and see how I do."
Egelstaff was due to launch the British challenge at Wembley Arena but the honour will now fall to mixed doubles pair Chris Adcock and Imogen Bankier in the mixed doubles after a late change to the programme.
Adcock and Bankier face Russia's Alexandr Nikolaenko and Valeria Sorokina at 9.40am on day one with Egelstaff scheduled to play at 12.30pm.
Britain's other competitor, Rajiv Ouseph, plays his men's singles opener against Sweden's Henri Hurskainen on Sunday evening.