Gold and silver for GB
Great Britain have scooped gold and silver in the two-man canoe slalom after a dramatic final.
Last Updated: 02/08/12 4:57pm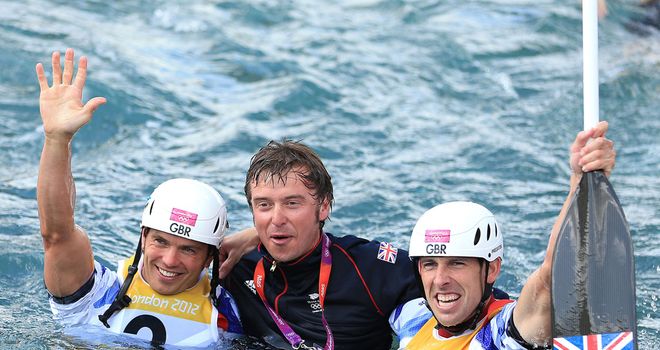 Great Britain have scooped gold and silver in the two-man canoe slalom after a dramatic final.
Etienne Stott and Tim Baillie won gold in a time of 106.41 seconds, followed by Richard Hounslow and David Florence who registered a time of 106.77 seconds to claim silver.
It meant despair for three-time Olympic champions, twin brothers Pavol and Peter Hochschorner of Slovakia, who took bronze.
Baillie and Stott were first to go in the final and set the fastest time of the day, roared on by a capacity crowd of British canoe fans.
The partisan spectators started cheering as the following Chinese crew and Polish crews hit gates, incurring costly penalties, and ranking themselves outside the medals.
The biggest threat to Baillie and Stott's time came from the Slovakian twins, who had won gold in Sydney, Athens and Beijing, but they also hit a gate and in the end finished outside the British crew's time.
As Hounslow and Florence were last to run in the final, that guaranteed Britain a gold medal. The only question concerned whether they could beat their compatriots' time.
They made the perfect start and were ahead at the first split, but coming out of the last gate they could not stay ahead of Baillie and Stott and lost out on gold by 0.36 seconds.
Celebrate
After two disappointing days at the Lee Valley white water course, where Britain had failed to reach the individual finals, there were scenes of joy as the victorious team jumped in the water to celebrate.
Stott told BBC Three: "It's weird, it could have been a disaster and now it's a dream.
"We did feel the pressure but for me I thought we needed something to go right today.
"There is nothing taken for granted in this sport and getting to the final was amazing."
Baillie added: "To win is mad and for these boys (Florence and Hounslow) to finish second...
"The run we had, I was hoping it might be good enough for a medal but I didn't expect that."
Despite being edged into silver-medal position, Florence was pleased with how he and Hounslow performed.
"We had to focus on our own run and we were pleased with it," he said.
"To win an Olympic medal, we are certainly not disappointed."
Hounslow added: "We are one team, it's all about Team GB but we wanted to put a result in.
"We attacked it hard all the way down but it was a sprinter's finish."
It is Britain's first ever gold in the canoe slalom, after Florence just missed out to Slovakia's Michal Martikan in the individual C1 event in Beijing by a fraction of a second.
The gold medal for Stott and Baillie was unexpected. The pairing missed out on most of last season after Stott dislocated his right shoulder in training.
The silver medal also represents a turn around in the fortunes for Hounslow and Florence. The pairing only came together in 2009 after the Beijing Games and were ranked ninth in the world.
On Monday Florence was left devastated after failing to make the final of the C1 event, finishing 11th.
And then Hounslow flunked in the semi-final of the individual kayak, finishing 12th, leaving him outside of qualification.
Baillie, from Aberdeen, added: "We just did our best, we didn't do anything different. We have had plenty of experience over the last few days of dealing with such a loud crowd. It wasn't a perfect run by any means but everything went just well enough. All the crews out there are really good.
"It's a really hard course and we went down the fastest."
He added: "I don't think surreal really covers it. It's crazy. I think I will bask in the happy, strange glow for a few days. Coming in we weren't favourites or anything. The sport is so topsy turvy, we could have gone out in qualifying. You just never know.
"The legacy of having this venue alone and then having some fantastic results. It's an exciting sport. The course that is set there is only there for this race so when you are training, we had to prepare for every course you can imagine out there. It was just incredible."
Stott, from Bedford, continued: "The way we prepared for this race is that we just wanted to do a good honest graft on each run, to do the gates as best we could. Getting into the final was a dream.
"We were just waiting, having done our run. We got fifth place, then fourth, and then we had a medal. The Hochschorners went behind us - the best slalom athletes ever - and then Dave and Rich came down, blazing at it. We know they are a fast crew, the beat us all the time in training and they come in behind as well. It's a great script for Great Britain and it's a great script for canoeing.
"The way we prepared for this race we said we would be the same guys coming in and going out of it. We weren't going to change the way we are. There's not going to be a difference if we were champions.
"On the start line we had prepared for the crowd. We let the noise and experience wash over us. We weren't going to let it change what we were so determined to do on the course."
France's Emilie Fer won gold in the women's individual kayak slalom in a time of 105.9 seconds.
Australia's Jessica Fox, whose British-born father is five-time world champion Richard Fox, came second to claim the silver. Spain's Maialen Chourraut won bronze.
Earlier, Britain's Lizzie Neave was knocked out in the semi-final after finishing 12th.