Rutherford leaps to gold
Britain's Greg Rutherford has claimed a surprise gold medal in the men's long jump at the London Olympics.
Last Updated: 05/08/12 1:16pm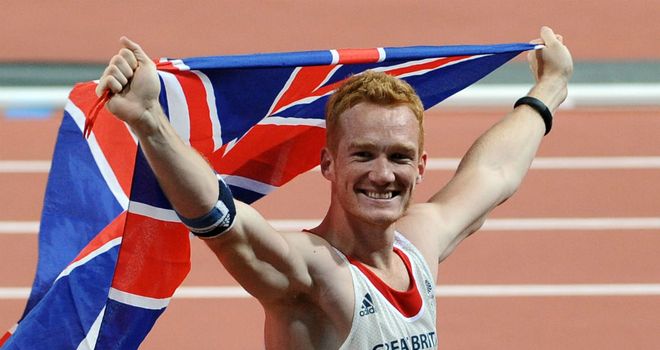 Long jumper Greg Rutherford has added to Team GB's medal hall as he became the first British man to jump to gold for nearly 50 years.
The Milton Keynes born athlete delighted home crowds with a 8.31 metre jump to take gold in the Olympic Stadium.
His win in the long jump kept the feelgood mood going, coming just minutes after the stadium erupted with noise following Jessica Ennis's heptathlon gold.
The 25-year-old beamed for the cameras as he held the Union Flag aloft and hugged his trainers in the stand.
Other than Ennis, Rutherford was the only British athlete to lead world rankings in his event this year but had largely slipped under the radar.
Britain has not won gold in the men's long jump since Lynn Davies's win in 1964 and the long jump was regarded as one of the most open events in the track and field programme.
Rutherford was still finding it hard to believe he had achieved his life's ambition.
Amazing feeling
"I don't think I'll ever get bored of hearing that,'' he said, when reminded he is now an Olympic champion. "That is the most amazing feeling in the world.''
Giving a highly emotional interview, Rutherford said: "I have the most amazing parents you could possibly have, a beautiful girlfriend, just everything.
"I can't tell you how much everyone has worked so hard for me, as well as myself. It's been a long process.
"I thought I was going to jump further than that but I don't care - I'm Olympic champion.''
Speaking on BBC1, he added: "What a night for British athletics. Three gold medals out of a possible three really.
"The crowd were absolutely incredible. I don't think it's sunk in properly. This is what I've dreamt of my entire life.
"I knew I was going to be a sportsman. When I picked athletics I knew I wanted to be an Olympic champion.
"And I get to do it in London... I might wake up in a minute.''