Duo stay focused
With 500 days to Sochi's opening ceremony, Kristan Bromley and Shelley Rudman remain grounded.
Last Updated: 26/09/12 8:44am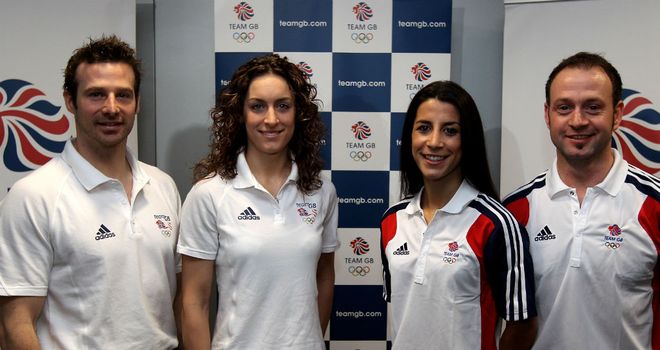 They may have been dubbed the Posh and Becks of bob skeleton, but for Kristan Bromley and Shelley Rudman, life is destined to remain much more grounded on the long haul to the Sochi 2014 Winter Olympics.
On Tuesday, Sochi celebrated 500 days to its opening ceremony, and as the Games edge closer Rudman and Bromley can expect to be the main focus of media attention as two of the nation's few realistic medal hopes.
With the razzmatazz of London 2012 still fresh in the memory, the reality of being a British winter sports athlete means increased publicity does not necessarily come hand in hand with financial power.
Bromley, a two-time World Cup winner and full-time skeleton sled manufacturer, for whom Sochi would be his fourth Games, said: "I'd snap anyone's hand off if they offered me one week's worth of a Premier League footballer's wages to fund my entire Olympic cycle.
"We haven't got access to anything like that kind of money. We're up from six o'clock in the morning until 10 at night trying to fit things in as best we can and get to the track in the right frame of mind.
"We don't moan about it. I don't see earning a salary less than a graduate at the age that I am, with the qualifications I've got, as a job - it's not. It's a choice I've made, it's a dream and it's something I want to achieve."
Achievement
Rudman first courted favour with the British media in 2006 when she clinched an Olympic silver medal in Turin, an achievement given additional narrative by her engagement to Bromley, British skeleton's long-time standard bearer.
However, Rudman's stunning success did not yield the kind of financial benefits which will enable her to spend the next 500 days focusing solely on sliding for gold in Sochi.
Skeleton, which has yielded a total of three British medals from the last three Games, including gold for Amy Williams in Vancouver, is the best-funded winter sport, with £3,447,600 awarded by UK Sport for the cycle to Sochi.
In comparison, 19 summer sports received bigger awards for the build-up to London 2012.
Rudman, who also receives 'B' level individual funding, added: "I had to pick up some extra consultancy work this year and without it I might have had to retire.
"We incur a lot of expenses just to get to the start-line, and the logistics of being away for so long are incredible."
Hectic schedules
Bromley, who turned 40 this year, earned his own slice of media attention when skeleton made its Olympic debut in 2002, nicknamed 'Dr Ice' for his scientific approach to his sport including a skeleton-themed Ph.D. thesis at the University of Nottingham.
Bromley remains the full-time chief operating officer of his company, Bromley Technologies, and the couple's hectic schedule must also revolve around caring for their four-year-old daughter Ella, who accompanies them through the season.
Despite the challenges, Rudman and Bromley are determined to use the new season, which begins in north America next month, as preparation for another shot at the Games.
"I'm totally consumed by Sochi," said Rudman, who suffered a chastening experience in Vancouver, when a poor first run effectively ruled her out of medal contention while team-mate and rival Amy Williams went on to take gold.
"I had a difficult time in Vancouver. I didn't get on with the track and I finished my first run thinking, 'I've blown it, I can't believe that's just happened.'
"I changed my settings for the second day and I was flying. I was gutted because I missed the chance to win a second Olympic medal. It's really hard when you know you could have done a lot better, but that's what keeps me going."
Children
For more perspective, the couple need look no further than their young daughter, who has already shown some inclination to follow her parents' path down some of the world's fastest ice chutes.
Bromley said: "When we come in from training or racing it doesn't matter how we're feeling, Ella can say one thing and it changes everything.
"Ella loves anything with speed and I certainly wouldn't stop her going down this route if it was what she wanted to do.
"I'll certainly make a sled for her - though I'd hope she might choose a sport that will set her up a little bit more financially."