Looking forward
Outgoing coach Ben Titley tells Sky Sports why the future is bright for British Swimming amid the disappointing fallout of London 2012 and rumours of spending cuts
By Peter Fraser - Follow me on Twitter @SkySportsPeteF
Last Updated: 29/09/12 1:01pm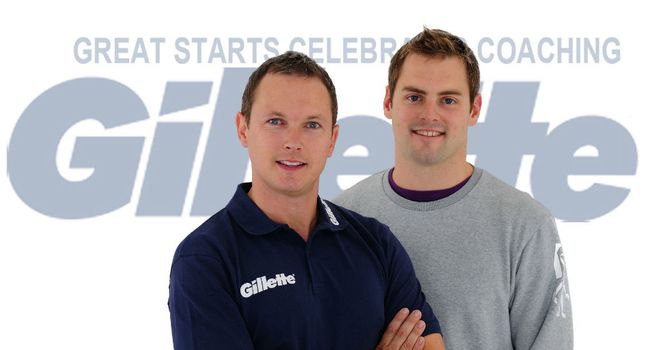 "Frustration" is the word which comes to the mind of Ben Titley when he reflects on the performance of British Swimming at the 2012 Olympics in London.
Great Britain underachieved at the Aquatics Centre this summer. When failing to meet UK Sport's medal target of between five and seven, which had been backed by an investment of £25million in the last funding cycle, they only repeated the same haul of three which was achieved in Beijing in 2008.
To make matters worse, unlike four years ago, there were no gold medals. Rebecca Adlington won two bronzes in the 400 metre and 800m freestyle while Michael Jamieson swam to a shock silver in the 200m breaststroke.
It was otherwise a case of near misses as Team GB failed to convert a record number of 23 finalists into medals. Titley is well aware of this having coached Fran Halsall to within 0.08seconds of a medal in the 50m freestyle despite a shoulder injury which had wrecked several weeks of her pre-Olympic training. Two more of his athletes, Liam Tancock and Lizzie Simonds, finished fifth and fourth, respectively, in their events.
Much has been made of Team GB's swimming disappointments and a hierarchical debrief led by performance director Michael Scott is to take place into the results. Spending cuts are also expected. In a further, major setback to British Swimming, the decorated and successful Titley is swapping his Intensive Training Centre base of 16 years at Loughborough University for a new role as head coach of the National Swim Centre in Toronto, Canada.
He begins the job in October but he is confident he is leaving a British sport in good shape, as he told Sky Sports of the Olympics at an event to celebrate the successful applicants of the 2012 Gillette 'Great Starts' campaign: "It was a frustrating experience. There are only so many times you can look at it and go, 'Jeez, you are kidding me, another fourth'.
Global sport
"I certainly learned a lot from it, which will stand me in good stead in the future. At the end of the day, all the athletes who I coached performed as well as they could on that given day. If not standing on the podium is the result they get, you have to deal with that. I think British Swimming is in a strong place for the future. It is now just about converting that depth we have into medals in the future."
Titley, whose CV includes coaching James Gibson to become the first British male world champion for 28 years in 2003 among another 120 international medals at World, European and Commonwealth level with the likes of Mel Marshall, Tancock, Halsall, Simmonds and Kate Haywood, was Team GB's women's swimming head coach in Beijing in 2008. Since that time, it would seem British Swimming has gone backwards in terms of medal colour but Titley does not agree.
"I know that it is frustrating and when compared to sports like rowing and cycling, it is not quite up to par," he said. "But in the global sport which swimming is, the difference we have made in a relatively short space of time over maybe the last six years has been phenomenal. If British Swimming can keep learning and move things on, I do not see any reason why they cannot achieve success in the future."
Scott's inquiry is under pressure and has come in for criticism from Adlington among others. The talk of UK Sport redirecting funding to other areas, such as athletics, cycling, rowing and sailing would be the biggest concern for swimmers. But Titley thinks both talent and coaching will always have a greater impact than money.
Focus
"I do not think so," he said when asked if he was worried potential spending cuts would mean swimming would not be able to fulfil its potential. "There are always reviews after major meets, whether they are successful or if you feel you could maybe have done better. That is all just part of the process. This one is probably a bit more public than some of the others.
"At the end of the day, the big thing for achieving success comes down to the athletes and comes down to the coaches. That is what makes the difference more than what level of funding a federation puts in place. As there are good coaches in place and if no talent is lost, good years are ahead, for sure."
As for Titley, from a personal perspective, it is time for a change. His move to Canada is a due to a mixture of career and family factors - his wife is Canadian and has some health issues.
Toronto is preparing to host the 2015 Pan American Games and Titley's offices will eventually be based at the modern Aquatics Centre in the city which is being custom-built for the competition.
He would be "surprised" if in the long-term future he does not return to Britain to work and he has not ruled out the prospect of moving his undoubted coaching talents into a different sport. But his immediate focus is on helping Canadian swimming after they finished joint 15th with Great Britain in the pool at London 2012 on two bronzes and one silver.
"For me, it is going to be a change of scene," he explained. "Certainly for the first year or two, I am not going to have athletes like Liam or Fran. They are ready to win medals and are winning medals on the world scene. It is going to be much more about setting up a process or pathway where success is going to be more achievable down the line. It is a long-term manoeuvre."
The 2012 Gillette 'Great Starts' campaign celebrates community coaches and inspires the next generation of coaches by providing them with grants to fund their next level qualifications. The campaign concluded at an event attended by ambassadors Sir Chris Hoy and Liam Tancock who celebrated with the successful recipients of this year's grants.