Sport England survey shows Olympics inspired record number of people to play sport
The 2012 Olympics inspired a record number of people to play sport, according to Sport England.
Last Updated: 06/12/12 12:57pm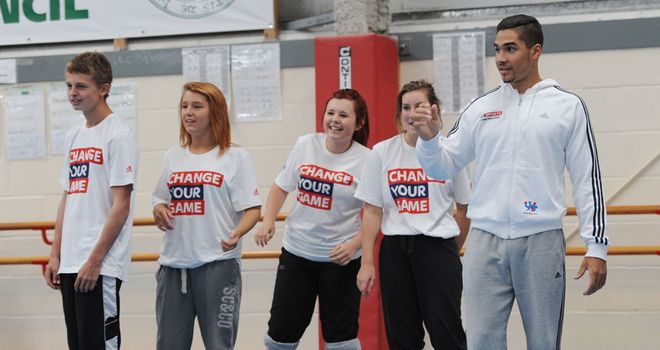 A total of 15.5 million people aged 16 and over are now playing sport at least once a week - a rise of 750,000 across the year, over two thirds of whom are women - while 1.57 million more people are participating than when London won the Olympic and Paralympic bid in 2005.
The survey shows that cycling and sailing are among the fastest growing sports, with judo, hockey and swimming - as featured on Sky Sports News' Get Involved series - also enjoying an upsurge in popularity.
Sport England's chief executive Jennie Price said: "We set the bar high in this survey, measuring only the people who play sport once a week, every week.
"These results show we are on the right track. I'm particularly pleased that many more women are taking up sports from netball and cycling to running.
"Sport needs to work even harder to attract and keep young people. So the investment in individual sports we will be announcing before Christmas will be strongly focussed on getting more 16- to 25-year-olds playing sport."
Minister for Sport and Tourism Hugh Robertson added: "One of the key legacy ambitions from London 2012 was to get more people playing sport -something that no other host city has managed to do. These are excellent figures and show that we are making good progress."
Sport England plans to invest £10.2m of National Lottery investment into improving participation in disabled sport and in January made getting more young people aged between 16-25 involved in sport one of its central priorities.
All year our Get Involved series has been showing you how to try new sports. We've featured a host of activities - and here's a look at how figures for the top ten stack up against last year.
Figures for 2010-2011 first, followed by 2011-2012:
Swimming: 2,809,300 - 2,933,100
Football: 2,117,000 - 2,126,800
Athletics: 1,899,400 - 2,033,700
Cycling: 1,761,200 - 1,962,000
Golf: 833,200 - 850,500
Badminton: 510,300 - 544,200
Tennis: 375,800 - 445,100
Equestrian: 312,600 - 331,000
Squash & Racketball: 284,800 - 263,200
Bowls: 219,800 - 214,100
There are small increases in swimming and football, while athletics participation - a cornerstone of Team GB success this summer - has risen by more than 100 thousand people a week.
Of the top ten, only Bowls, plus squash and racketball have suffered a decline in the last 12 month period.
Do you want to take up a new sport? Then visit Sky Sports News' dedicated page and let us show you how to 'Get Involved', at www.skysports.com/getinvolved.
Visit the website to nominate a Local Hero in your community who is going above and beyond to help others take up or continue playing sport. Tell us who they are and what great things they've done.
Sky Sports Living for Sport is a free secondary schools initiative that uses sport stars and sport skills to boost confidence, change behaviours, increase attainment and improve life skills. To sign up visit www.skysports.com/livingforsport