Bobby White remains upbeat on Olympic legacy despite funding cuts
Bobby White spoke to Skysports.com about keeping the Olympic spirit alive despite funding cuts for handball.
By Emma Bird
Last Updated: 09/01/13 9:43am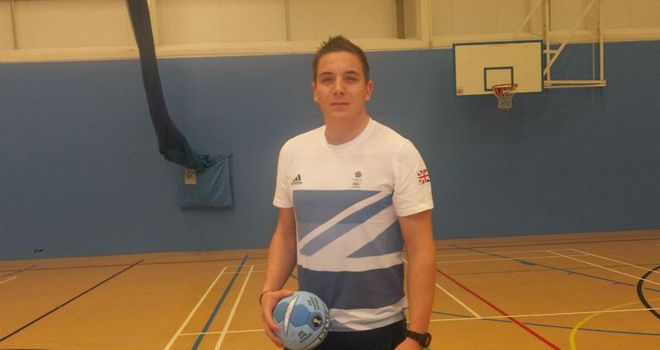 Following the decision in December by UK Sport to cut funding for a number of sports in the build-up to the Rio Games, attention should now turn to what the affected sports are planning for the future.
One of the team sports which has been hit hard, alongside basketball, table tennis and wrestling which have missed out on funding altogether, is handball.
Great Britain handball captain Bobby White is keen to highlight that his team, and many members of Team GB, are uniting and reacting positively to the severe cuts.
Many people wrote off their distant chances for Rio in 2016 as soon as the news was announced, however White is determined to prove that the London Olympics were not the finale for his beloved sport.
"The message is clear," he told Skysports.com. "The sports that missed out will not give up, and with support of team mates, anything is possible. Bring on Rio."
With handball having been one of the resounding success stories of the home Games last summer, not in a medal-winning way but by introducing the country to the exciting sport, it was hoped that it would lead the way for the 2012 legacy.
However, this legacy pledge has come under much scrutiny due to the cuts, with a vicious circle beginning to take shape.
Sports such as handball were huge hits in London; they provided a new spectacle and during the two-weeks of competition, they began to inspire members of the British public.
Glitch
Great, or so everyone thought. There were discussions about incorporating handball into schools, with new clubs appearing up and down the country.
It then seemed to be getting even better as Sport England granted England Handball a total of £1.15 million in funding for grass roots development.
It was all looking so positive, with the sport expected to grow at a substantial rate over the next few years. Yet then there was the glitch.
Yes it is all very well children being able to play more handball, with added funding and greater opportunities. However, if when they get to a certain age where they want to take their sporting career to the next level the route to success is blocked, what use is the extra attention given to the grass roots level going to be?
Despite this setback though, White and his colleagues are determined to strive for the opportunity to be a part of Rio, with the captain eager to express what lies ahead for his team.
He said: "One thing that was not given too much attention was what those teams are going to do now, with European and World Championships still to play for.
"This is where the word 'team' really comes into play. Last summer, all Olympic and Paralympic sports came under the same banner - 'One Team GB'.
"Now in the wake of these funding announcements, the more decorated members of 'One Team GB', including sixteen rowing and cycling gold medallists, have lined up alongside Olympians and to help secure alternative funding to ensure their fellow athletes can continue to strive for excellence by competing and developing at the highest level."
Long road
During 2013 there is set to be a series of online auctions, with places on a wide range of training experiences with Team GB athletes up for grabs.
The proceeds of this will go towards funding both GB Handball and the athletes delivering the experience.
It will be a very long road, no-one is doubting that, yet White has highlighted the need for support at every level if he and his team are to continue playing and competing at the top heights.
The funding cuts are a significant setback for sure but there are other ways to climb the mountain to Rio using plenty of hard work, dedication and colossal amounts of support.
Only time will tell how this journey will end but if more people get behind the cause, it will make the mission much smoother for all concerned.