Bradley Wiggins admits he is struggling to believe being awarded a knighthood
Bradley Wiggins admitted to being in a state of disbelief after being awarded a knighthood.
Last Updated: 29/12/12 7:19pm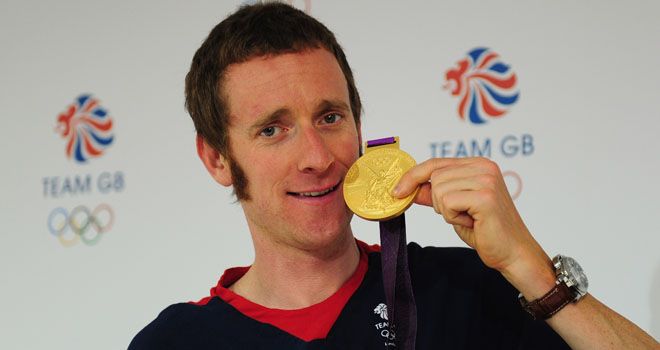 Wiggins joins six-time Olympic gold medallist Sir Chris Hoy as a cycling knight after an astounding year that saw him add London 2012 time-trial gold to a historic victory in the Tour de France.
The 32-year-old took his Olympic gold tally to four in the wake of becoming Britain's first Tour winner, and he added victories in the Tour de Romandie, Criterium du Dauphine and Paris-Nice for good measure.
He said: "It's quite something really. I never ever imagined that I would ever become a knight so it's an incredible honour but there's a slight element of disbelief, and it will take a while to sink in.
"It's not something I'll use on a daily basis but it's nice to have in the trophy cabinet as the ultimate accolade as a sportsman, being knighted by your country for not only the success this year but 12 years now of consistent work and performing - four Olympic Games, seven medals.
"It's more the recognition of that so it's fantastic. And to be an active knight as well along with Sir Chris is incredible for a sport like cycling.
"There was never any doubt whether I'd accept it or not, it was more a case that I never saw myself as a Sir, and I probably never will.
"I don't like profiting from status so it's more for my family. It's nice for my parents and grandparents to be able to say I'm a knight, and for my kids in the future.
"To be deemed good enough to have a knighthood by the establishment is quite nice really, because I've continued to be myself through most of the fame.
"Not all of it's been good, a couple of swear words and things, so it's nice to be able to receive this after everything, it shows you don't have to have a stiff upper lip and say all the right things all the time.
"It's a nice advertisement for our culture I think because so much of it is based on being something you're not with celebrity, so it's reassuring in a way."
Wiggins also admitted his life off the bike continued to hit new heights, none higher than getting the chance to play with one of his heroes, Paul Weller, in a charity concert earlier this month.
He added: "For me (the highlight) is probably the obvious one, apart from Sports Personality, playing at Hammersmith Apollo with Paul Weller last Wednesday was incredible.
"That topped it for me, and that's not a joke. It was amazing. Playing a Jam song as well, I mean how many people get to do that?"