Bronze for Adlington
Rebecca Adlington won bronze from lane eight in the 400m freestyle as Camille Muffat took the Olympic title.
Last Updated: 30/07/12 6:34am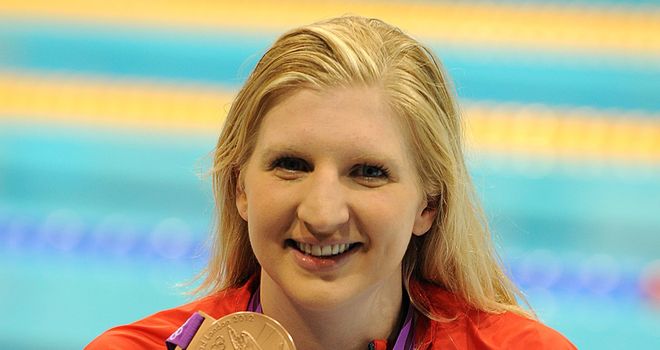 Rebecca Adlington won bronze from lane eight in the 400m freestyle as Camille Muffat of France took her Olympic title.
Muffat's time of four minutes 01.45 seconds was a new Olympic record while American Allison Schmitt finished second.
However, it was a superb gutsy swim by defending champion Adlington, who only just scraped into the final on Sunday morning.
The 23-year-old came from sixth at halfway to touch in 4mins 03.01secs.
No Briton has ever successfully defended an Olympic swimming title and the morning's heats underlined the magnitude of the task she was facing.
The Mansfield-born swimmer had dominated her own race but two subsequent faster heats threatened to edge her out of the reckoning.
Tough
She squeezed in but it meant she would be in an outside lane where she would have little idea of what was going on in the central lanes occupied by the fastest qualifiers, Muffat and Schmitt.
Federica Pellegrini, world champion and world record holder, was also in an outside lane after qualifying seventh with the race apparently wide open.
After her heat Adlington said on Twitter: "Just sneaked into tonight's final in 8th place! Not expecting anything tonight, all I can do is my best :-) thank you for all the support x"
However, swimming out of outside lanes, with their psychological and visual disadvantage, is nothing new for the Bill Furniss-coached athlete.
She claimed a silver medal out of lane one behind Pellegrini at last year's World Championships and was third at the previous worlds in Rome three years ago from an outside lane.
The 23-year-old was shocked by her third place after her heat swim although, ever the athlete looking to improve, she was slightly disappointed with her time.
Delighted
She said: "I didn't expect a medal especially after this morning going in eighth.
"It was an extremely tough race.
"I saw them, they were off, I just couldn't keep with them.
"I am a little disappointed at the time, I did go faster in March, but to be honest I am so happy I managed to sneak that medal.
"I couldn't see them, I don't know where I'm coming but I just put my head down and go and that's what I did and the crowd definitely lifted me to get that bronze medal and I can't wait to share it with them."
Of Muffat and Schmitt, she added: "They have been so good on the 400 all season and I know after being in there the 800 is going to be a battle and hard work.
"But I am pleased with that swim, it's nice to get the first one out of the way.
"It's nice that I have medalled on home ground, another Olympic medal is just unbelievable, there is not an ounce of disappointment in me.
"I gave it my absolute all and I am so, so pleased to come away with a medal.
"I heard the crowd, I just put my head down and went and once I got out it was unbelievable.
"That's what being on home soil is all about, no matter where you come the crowd has that reaction.
"I know a lot of people may have expected me to get the gold tonight but the fact I still get that support when I get bronze which I am over the moon with, some people would be like she only got a bronze, but swimming is one of the hardest sports to medal at in the Games.
"On day two we have seen how hard it is so I am so, so pleased with that."
Progress
Meanwhile, Gemma Spofforth, Liam Tancock and Robbie Renwick all booked places in their respective finals on Monday night.
Spofforth, fourth in the 100m backstroke by a fingernail in Beijing, qualified sixth in 59.70 although Georgia Davies was 15th.
World record holder Spofforth said: "Really happy. It's been a spectacular journey for me the last four years with a lot of ups and downs.
"All the kids I teach have given me a lot of inspiration and it's such a huge honour to represent my country.
"This morning I had a lot of things I could have corrected and I was probably overthinking the race."
The Shoreham-born swimmer trains alongside America's 400m individual medley champion Ryan Lochte in Florida and said of him: "He is such an amazing person and has such a passion, he would be an inspiration without the swimming.
"There are about 20 Florida Gators here and it's great to have so much support with them and the British crowd. It really lifts me up."
She also heaped praise on team-mate Adlington, saying: "I am so happy for Becky. She is such an inspiration, two golds four years ago and I think she has more to come in the 800m."
Tancock, third into the men's 100m backstroke final in 53.25, also spoke of Adlington.
"Fantastic - I was in the call-room with Abba music on and heard the almighty cheer through some noise-cancelling headphones seeing Becky absolutely smashing it.
"We had a silver in the cycling earlier today - it's really got me inspired and up for it. It's what we need."
Renwick reached his second 200m freestyle final, four years after finishing eighth.
The City of Glasgow swimmer was equal sixth in the semi-finals in 1:46.65 with Sun Yang fastest through as he looks for his second Olympic title after his triumph in the 400m last night.
Renwick said: "Absolutely fantastic, an Olympic final that's what it's all about. And once you get in the final anything can happen. I feel like I have a lot left."