Cyclists disqualified
Great Britain's Jess Varnish and Victoria Pendleton have been disqualified in the team sprint event.
Last Updated: 02/08/12 5:51pm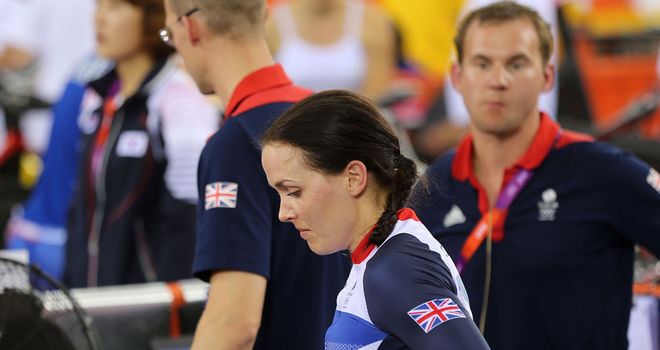 Great Britain's Jess Varnish and Victoria Pendleton have been relegated in the women's team sprint and will not contest a medal ride, officials have confirmed.
The confusing scenes due to an illegal change came after they set a team sprint world record in qualifying, only to see China better the mark moments later in the opening Olympic event at the London 2012 velodrome.
The British duo would have been vying for gold but were disqualified in the first round after the commissaires' decision,so Germany will now take
on China for gold. Australia will battle Ukraine for bronze.
Dreams end
Pendleton was set to resume competition in the keirin on Friday, but for
Varnish, who has focused on the starting lap in the event, the Games are over.
Boos replaced cheers in the velodrome as it was announced that Britain's women cycling hopefuls had been disqualified from the team sprint finals.
Hopes now rest on four-time Olympic champion Sir Chris Hoy, and team-mates Jason Kenny and Philip Hindes.
First round
The eight fastest teams advanced to the first round, with Varnish and Pendleton clocking 32.526 seconds to better the time Germany set in winning Track Cycling World Championships gold in Melbourne in April.
Yet China's Gong Jinjie and Guo Shuang went faster still in the fifth and final heat, clocking 32.447secs.
German duo Kristina Vogel and Miriam Welte were third fastest in 32.630, with Australia's Anna Meares and Kaarle McCulloch fourth quickest in 32.825.