Boxing glory for Adams
Great Britain's Nicola Adams won the first Olympic women's boxing gold medal with victory in the flyweight final.
Last Updated: 09/08/12 11:32pm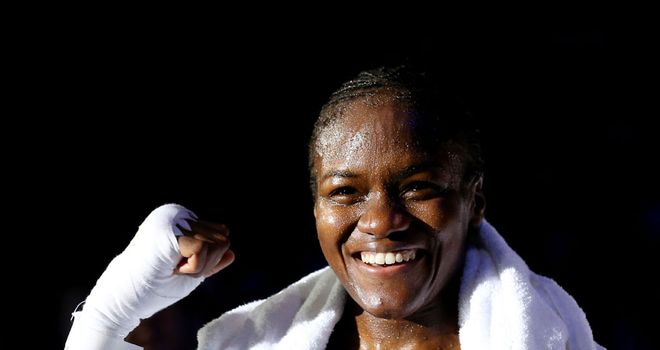 Great Britain's Nicola Adams won the first Olympic women's boxing gold medal with victory over Ren Cancan of China in the flyweight final.
Adams decked Ren in the second round on her way to a stunningly comprehensive 16-7 victory at the ExCel against an opponent who had beaten her in each of the previous two World Championship finals.
The Leeds fighter made a superb start, producing much the cleaner work in the opening round, firing home a quick combination and a left hook and making it difficult for Ren to find her range as she bounced in and out of reach.
A beautiful straight left followed by a right hook towards the end of the round helped Adams into a deserved 4-2 lead, but it was far from over against the Chinese champion who stormed out for the second and landed a big right hand in a furious flurry of action.
Unfazed
Adams was completely unfazed, landing with a beautiful countering left, then a right as she bullied the Chinese fighter into the ropes and unleashed a left followed by a chopping right which dumped Ren to the canvas for a count.
It was a staggering round by Adams, who took a 9-4 lead into the second half of the contest, but will have known to stay on her guard against an opponent who has dominated at the top of her division for four years.
In a quieter third, Adams proved a master at keeping Ren out of range, darting in to score with crisp counters, and at the end of the third the gold medal was at her mercy after establishing a colossal 14-5 lead.
Utterly dominant, Adams continued to dominate the final round, dancing around the outskirts of the ring and landing counters seemingly at will, celebrating with an Ali shuffle in the final 10 seconds to round off a stunning win.
Dream
Adams told BBC1: "It's a dream come true. I've just wanted this all my life. To think I've finally done it, I'm finally here. All this support has really made my day."
On the knockdown, she added: "I didn't even see that coming. It's just was one of those things, it just happened.
"I'd like thank all the supporters here, all the supporters who've followed me. I've brought that gold medal back to Leeds.
"It's amazing. To have the flag lifted, I just can't wait. I'm just so happy and overwhelmed.