Early exit for Stevenson
Sarah Stevenson suffered a disappointing first round taekwondo defeat to American Paige McPherson.
Last Updated: 10/08/12 11:23pm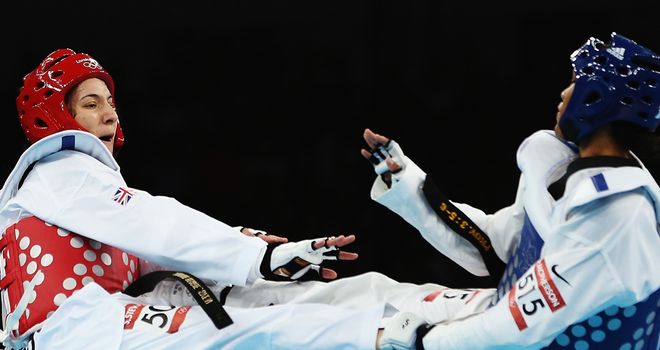 Britain's taekwondo fighter Sarah Stevenson suffered a disappointing first round defeat to American Paige McPherson in the women's under-67kg at ExCeL.
To add to the disappointment, the British hopeful will also not be included in the repechage, which would have given her a chance of reaching the bronze-medal match, after her first-round conqueror McPherson lost to Nur Tatar 6-1 in the quarter-finals.
For the first round match on Friday morning, South Arena 1 was again in full voice, having roared Welsh teenager Jade Jones on to gold in the under-57kg on Thursday night.
Stevenson, Olympic bronze medallist in Beijing, has been through her own tough journey towards London 2012 - recovering from a serious knee injury in February having won the World Championships last year against the background of both her parents battling terminal illness.
McPherson landed a head shot to lead 3-0 in the first round.
Stevenson continued to struggle to find her range and was picked off twice again, finally registering with a kick to the body.
Trailing 5-1 heading into the last round, it was all or nothing now for the Doncaster fighter.
Head kicks
The American thought she had landed two scoring head kicks, but both were chalked out on video review.
Stevenson, though, was unable to respond and her dreams of Olympic gold were over.
The draw had opened up for Stevenson after top seeded Egyptian fighter Seham Elsawalhy suffered a shock first-round defeat to Elin Johansson of Sweden.
Stevenson did not offer her injury setback as an excuse.
"Not today, no, but it's been hard. For the mental side, every single day in the last 18 months, every single day," she said.
Proud
"I did my best. My dad wanted me to be here, so I am here and I know they [her parents] would be proud.
"I would have been forgiven to quit, sit in the corner and cry, but I am not a quitter and I would never have quit. I just wanted to be here and do my best, and have no regrets.
"I want to wake up tomorrow and have no regrets and I think I might be able to do that. Obviously I'm going to be a bit disappointed, but that was my aim and my family's aim."
Gold
South Korea's Hwang Kyung-seon later went on to defend her Olympic title and became the first woman to win taekwondo medals in three successive Games.
The 26-year-old won bronze in 2004 and turned that into gold in Beijing four years ago, and tonight she was far too strong for Turkey's Nur Tatar, winning the final 12-5.
The bronze medals both went to athletes who came through the repechage.
McPherson, who knocked out Stevenson, defeated Franka Anic of Slovenia 8-3 while Germany's Helena Fromm beat Carmen Marton of Australia 8-2.