Black handed role
UK Athletics have appointed Neil Black as performance director after a four-year gap.
Last Updated: 14/09/12 8:12am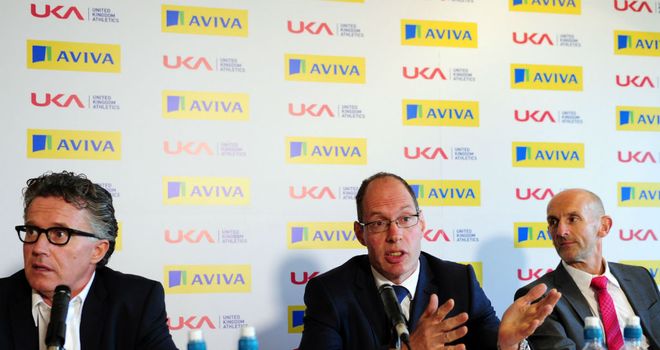 UK Athletics have appointed a performance director after a four-year gap and will announce the replacement for head coach Charles van Commenee within the next few weeks.
Neil Black, until recently head of sports science and medicine for UKA, has been appointed performance director and will take over some of Van Commenee's role.
The organisation have not had anyone in that post since 2008 when Dave Collins left, with the responsibility since then shared jointly between Van Commenee and Chief Executive Niels de Vos.
Partnership
Black said: "It is an honour to be given the chance to lead the Olympic and Paralympic task force and be asked to lead colleagues with whom I have worked hand in glove for the last four years.
"The performance team has worked hard to change the structures and cultures of our sport and I very much look forward to working in partnership with colleagues to build on the success of the last four years as we continue on our journey to 2017."
Black's first main duty will be the appointment of a new Olympic head coach to replace Van Commenee.
Van Commenee said: "If I were ever CEO of a national athletics federation or even Olympic Association, Neil Black is the first guy I would call and try to hire.
"I am 100% happy that he is the right man, within the right structures, to push on with the next phase of the 10-year plan we devised together back in 2008."
Support
Black started in sport as a physiotherapist and since 2009 has been in charge of performance support services, science and medicine.
He personally managed the support programmes for Mo Farah and Jessica Ennis.
De Vos added: "Neil Black assuming the role of performance director is the culmination of succession planning we began when Charles first signed up as Olympic head coach on a four-year deal in Beijing.
"Moving him from head physiotherapist into a general leadership role four years ago was done very much with this outcome in mind.
"He has been the 'glue' in the Olympic task force system I created, ensuring the right people, places and performance culture was in place to support the head coaches of the Olympic and Paralympic teams."