Glad tidings for Monique
Britain's Monique Gladding qualified for the 10m platform semi-finals at the FINA World Cup in London.
Last Updated: 20/02/12 11:11pm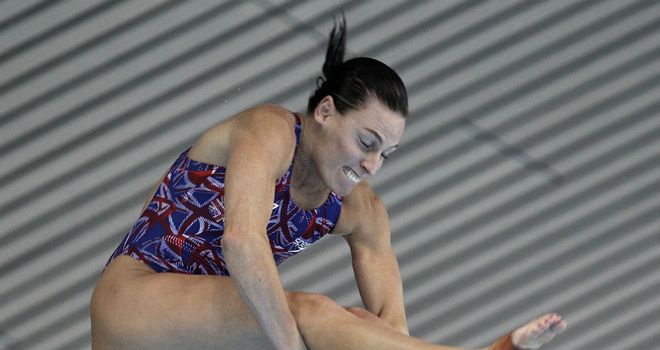 Monique Gladding moved a step closer to a dream first Olympics after comfortably winning through to Tuesday's semi-finals of the women's 10m platform at the FINA World Cup in London.
Almost a year to the day since she suffered a horrific head injury at a meet in Russia, Gladding finished sixth among the world's best in front of a vocal home support at the Olympic Aquatics Centre.
That ensured Great Britain would take two women platform divers to this summer's Games and, while Gladding must still qualify herself at the British Championships in June, she looks capable of doing that following Monday's impressive outing.
While she challenged at the top of the leaderboard, team-mate Stacie Powell, who she will battle with for an Olympic place, finished 14th to also remain in the competition.
Gladding can take confidence from that and the fact that just 12 months after suffering life-threatening injuries she is in such a position.
The 30-year-old was left with a massive scar and still suffers headaches after she smashed her head on the 10 metre platform and plummeted unconscious into the pool in Russia, with team-mate Nick Robinson-Baker having to pull her to safety.
Motivation
It had put her hopes of a first Olympics in jeopardy but, while she admits she has never watched footage of the incident since, said it has provided a significant motivation to be at London.
"I always knew I wanted to come back," she said. "The past 12 months have been about working hard and getting back in the British team. It is an absolute honour to be here.
"After the first round and I felt that energy (in the crowd). I was just lying there thinking: 'Just take in this moment. Just hold on to it'.
"I really want to come back and do this again (at the Olympics)."
Gladding knows, however, she still has work to do before she is assured an Olympic spot.
She qualified Britain's final platform place for the Beijing Olympics four years ago, only to miss out when it came to qualifying herself at the national titles.
"Today was about getting to the semi-final and getting that Olympic spot," she said.
"That was the hard part today. There is still work to do though."
China claim first gold
Gladding's performance highlighted a solid opening day for Britain with springboard synchro pair Robinson-Baker and Chris Mears finishing 10th in the final.
While China picked up the first gold on offer, through world champions Qin Kai and Luo Yutong, the Britons had been in medal contention heading into their final dive.
But like the preliminary round they failed to land their new and most difficult forward four-and-a-half somersault to slip down the leaderboard.
"There is some stuff to work on but there's some really positive stuff as well," Robinson-Baker said.
"If you look at it after our fifth dive we were 10 points out of a medal position. It was a matter if we hit it for 90 points we are in contention for a medal.
"Today unfortunately it didn't quite work out that way. We'll go back to the drawing board and try and figure that last dive out.
"If you're going to be up there in the Olympic medals you need to be putting that dive up there (in their list of dives)."