Irvine secures spot
Ireland's Martyn Irvine qualifies for the men's inaugural omnium event at the London Olympics.
Last Updated: 11/04/12 9:23am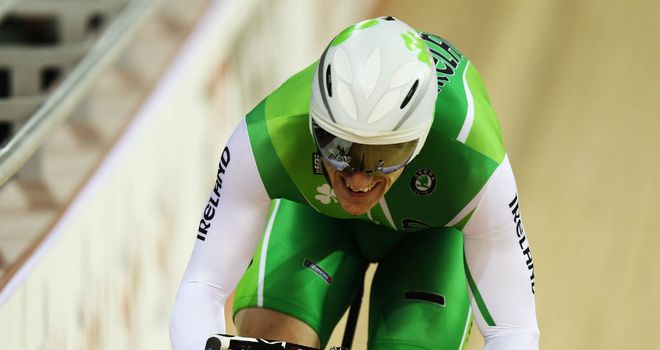 Ireland's quest to compete with the world's top track cyclists has been given a boost after Martyn Irvine qualified for the men's inaugural omnium event at the London Olympics.
Irvine, a former road racer who only took up the gruelling six-discipline event a little over a year ago, finished seventh at the World Track Cycling Championships which ended Sunday.
Now ranked seventh in the International Cycling Union (UCI) rankings, the 26-year-old has secured the top eight place which means he will be Ireland's sole racer at the London Olympic velodrome.
Ireland team coach Brian Nugent said: "It's a massive achievement for Martyn, and for Irish cycling."
Nugent is one of several unsung heroes credited with keeping the wheels rolling on Ireland's modest track squad, which has minute resources compared to giants such as Britain, France, Germany and Australia.
Thanks to lottery funding and sponsors like Sky television, Britain's track team boasts an annual budget in excess of £4 million ($6.3 million). It pays for all the very best equipment and sports science money can buy.
Podium finish
Ireland, a country "with no real velodrome" according to American coach Andy Sparks, gets by on a fraction of that sum. For his timed events, Irvine has been known to use a bike borrowed from former world record holder Sarah Hammer of the United States.
But Sparks, Hammer's husband and a coach to several minor track nations, including Ireland, at his training base in Mallorca, still believes a podium finish for Irvine in London is possible.
He said: "We're not going to the Olympics with the goal of participation as the goal. We're going to the Olympics with a top three performance (in mind)."
The omnium -- with its mix of sprint and endurance events -- "is like a stage race over two days," says Sparks. Yet it has had mixed reactions from observers and pros alike.
Former track racer Greg Henderson of New Zealand, who races on the road with Lotto-Belisol, posted a Twitter message saying: "Let's watch the Omnium and celebrate the averageness of an athlete in every discipline.
"Best averageness wins."
However, like the decathlon in athletics, consistency in every event is the key.
Expense
Sparks added: "A lot of it is about coming right on the day. Martyn can consistently perform in every single event, which is what you need for a podium placing.
"You can see people destroy the others in a sprint event, but it's always going to come at the expense of something else."
At the Games the likes of Britain and Australia will show up with equipment and technological advantages that could shave seconds off their times yet Irvine won't have that luxury.
"It would be laughable if you had to compare Martyn with the other top European countries," Sparks said.
"Martyn will have the smallest budget, exponentially so, than any other country."
Despite this, Sparks and Irvine are used to punching above their weight.
"You have two choices: you can either sit around and be sad about that fact, or you can do what you need to make that top eight," added the American.
Irvine now wants to win an Olympic medal. The Irishman added: "That goal is to be standing on the podium with an Olympic medal hanging around my neck.
"I'm getting excited thinking about it, it's not some crazy dream, it's so close to being a reality."