Adlington aims to inspire
Rebecca Adlington reflects on Beijing and looks forward to inspiring people at the Games this summer.
Last Updated: 25/04/12 4:09pm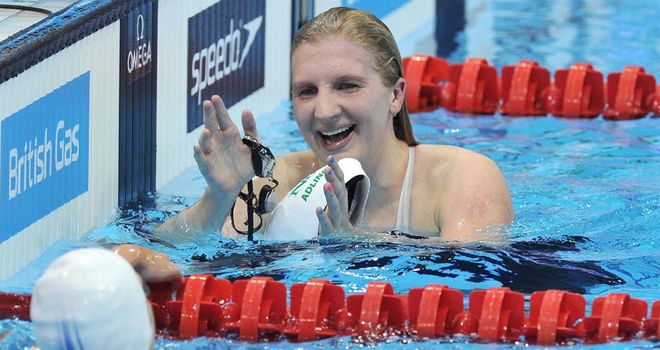 Four years ago, Rebecca Adlington was preparing for the Beijing Olympics with no idea as to how much her life was about to change.
A gold medal in the 400 metres freestyle was followed by another title in the 800m, as she took down Janet Evans' long-standing world record.
The Mansfield-born swimmer instantly became a household name back in the UK, however out in Beijing, Adlington had little awareness of what an impact she had made.
She said: "It was one of those situations - you couldn't watch the news. The TV was only linked up to Olympic events and the commentary was Chinese.
"We didn't have any newspapers we could read, we didn't have anything so you weren't aware.
"Even my mum and dad saying 'you are in the paper,' I thought I'd got a little mention in the back, a paragraph or whatever, you didn't appreciate anything that was going on back home whereas this time it will be completely different.
"We'll see the news, the papers, we'll experience it all."
Anticipation
With the London Games now 93 days away, the 23-year-old is in the midst of heavy training after qualifying last month at the London Aquatics Centre.
For the Nova Centurion athlete the anticipation of performing in front of a home crowd is one that she is relishing.
She added: "When anyone mentions what they are looking forward to most, I think everyone pretty much says the home crowd.
"The venues are all a bonus but I think everyone would love it even if it was not in such an incredible pool because of a home crowd and a home Olympics that no-one has ever experienced.
"I think people got a feeling for it at trials, the crowd was a lot less but we all got a sense of what it was like and it was brilliant. I loved that atmosphere and that was only 2,500.
"The Americans and Australians are used to getting big crowds in for their trials or their meets so they are bit more used to it, but for us it is extra special because we are not used to it."
Passion
Adlington was speaking at the launch of the British Gas 'Free Swims for Britain' campaign, which is giving away swimming sessions to those who sign up online to back the British swimmers.
The athlete has often talked of her passion for getting people involved in the sport and said on Wednesday: "After Beijing with everything that happened and people knowing my name, I wanted to get something good out of it and inspire people in some way.
"It is something you can do all year round and I was shocked about how many people couldn't swim because I wasn't really aware of it.
"When I was growing up I didn't ever think about the ones that didn't go or couldn't swim.
"I'd love to stay within the sport and hopefully get kids involved as well. I think that is why I like getting involved with all the British Gas campaigns."
Meanwhile, Adlington confirmed she will not be competing in the 200m freestyle in London and as expected will concentrate on the 400m and 800m.
Free Swims for Britain runs from 13th April to 30th August 2012. For further information and to book your free swims go to www.britishgas.co.uk/freeswimming