Gold number 16 for Phelps
Michael Phelps won the 200m individual medley to claim his 16th Olympic gold and 20th in all.
Last Updated: 02/08/12 10:42pm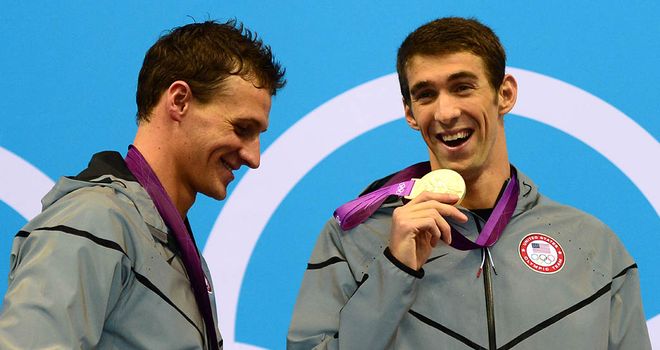 Michael Phelps claimed the 16th Olympic gold medal of his amazing career and 20th in total with a thrilling victory in the 200 metres individual medley on Thursday evening.
Phelps led from start to finish and held off fast-finishing American team-mate Ryan Lochte down the final freestyle leg to win in one minute 54.27 seconds, just 0.04secs outside his own Olympic record.
It means Phelps is the first man to win the event at three consecutive Games and comes just 48 hours after he won his 18th and 19th Olympic medals to overtake Russian gymnast Larisa Latynina, who held the previous record with 18.
Lochte, who had been forced to settle for bronze in the 200m backstroke final 30 minutes earlier, took silver in 1:54.90, with Hungary's Laszlo Cseh taking bronze. Britain's James Goddard was seventh in 1:59.05 after showing up for a long way.
"I'm a bit deflated now, a little bit confused too because I've been training so well the last few months," he said. "My team-mates and coaches will back me up and say I've worked really hard for this.
"It's a weird sport. Sometimes you work really hard and on the day it just doesn't kind of show.
"I just didn't really feel any bounce in my stroke. I just haven't had it since I've been here, it's a strange one."
Record
On another successful evening for American swimmers, Tyler Clary took surprise gold in the 200m backstroke ahead of Japan's Ryosuke Irie and Lochte, after Rebecca Soni had claimed gold in the 200m breaststroke by smashing her own world record.
Soni was a massive odds-on favourite after setting a world record of two minutes 20.00 seconds in yesterday's semi-finals, and fully justified her status with a commanding performance.
The 25-year-old took control of the race after the opening length and touched in a time of 2:19.59secs, slicing more than four tenths of a second off her previous time. Japan's Satomi Suzuki claimed silver with Russian Iuliia Efimova taking bronze.
"I wasn't trying to focus on records or medals or anything, I just wanted to swim one more race the way I knew I could," Soni said.
"It has been my goal since I was a little girl to swim under 2.20, my coach told me I could be the first woman to swim 2.19 and I have been chasing it ever since and I am just so happy."
Holland's Ranomi Kromowidjojo ensured there would not be an American clean sweep of the evening's four finals, powering to victory in the 100m freestyle and lowering her Olympic record - set yesterday - to 53.00.
The 21-year-old was only fourth at the turn but stormed down the final length to finish ahead of Aliaksandra Herasimenia and China's Yi Tang.
Britain's Fran Halsall was fastest off the blocks but eventually finished sixth in 53.66, leaving the home nation with just two medals so far in the pool.
"I am bitterly disappointed," Halsall said. "I really wish I could have gone two-tenths faster and got on the podium but .....I've got to regroup, refocus and get angry for my 50m.
"I just didn't have it today. I can't change it now unfortunately, I gave it my best shot but the time just wasn't there. I'm looking forward to the 50 metres, I feel a lot better at that at the moment."
Phelps later returned to the pool to qualify fastest for the 100m butterfly final - another event in which he will bid for a third successive Olympic title.