Backley backing Brits
Steve Backley told Sky Sports home advantage will be a major boost for British athletes this summer.
Last Updated: 18/04/12 2:27pm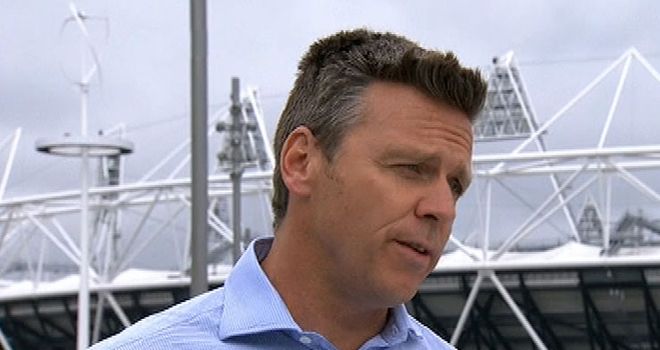 Four-time Olympic javelin challenger Steve Backley told Sky Sports that home advantage will be a major boost for British athletes this summer, but warned that first-timers could be overawed by the occasion.
Backley won three medals from his four Olympic appearances, but admitted that his one bronze and two silvers only came after making a mess of his first appearance in the Games.
"I can hold my hands up and say I messed up my first Olympics," Backley told Sky Sports News Radio.
"I think if you look at the first Olympic Games for Olympians they make a mess of it unfortunately, the statistics will show us that most athletes are completely overwhelmed and completely daunted.
"That happened to me, I walked into my first Olympic Games as the world record holder, I was expected to win and I made a mess of it. I was young, I made mistakes, I over-trained, I threw a javelin every day for the last three weeks before competing.
Over-worked
"I walked into the stadium in pieces because I'd over-worked and just completely made a bad choice. I came away with a bronze medal which I find a strange story to share with people.
"Because an Olympic medal is a huge success in some people's eyes, but for me at that point in my career it was an error, but one which I very much learned from."
Backley insists, though, that having a home Olympics will only serve to spur British athletes on to achieve great things, as he points out that host nations traditionally get an increase in their performances when staging the event.
"Athletes put their own pressure in themselves, but it's a positive pressure though," he added.
"Walking out into the stadium in London in a British vest, with the British support and the British crowd, with all the preamble and the increased interest in the Games this year, it's only a positive thing.
Home advantage
"The home advantage we see in football week, in week out, is a phenomena which is hard to capture but which tends to lead to a positive result. People tend to thrive under pressure.
"The best example I've heard was coming off the back of the last Olympics, Germany took one medal in those Games, but a year later we're in Berlin at the World Championships and they got an absolute bucket load of medals.
"The same athletes, same competition but it was the pride of standing in the capital city in the old Jesse Owens 1936 Olympic Stadium, and there's something in that pride - you stand a bit taller, you puff your chest out and you deliver a greater performance.
"The closest I ever got was Manchester in the Commonwealth Games and it's a wonderful feeling and I think it will have a huge impact on our team."
Backley says Sydney's Olympics in 2000 was the best he has ever been to, but says London can match that due to the sporting-mad nature of the nation.
"I'm absolutely looking forward to everything in London," he said. "The best Games I went to was Sydney, the reason they were so good was because everything was so good - from transport, to the food, the organisation, the stadia - there wasn't a bad word to say about the Games.
"That's what I'm looking forward to - us as a nation celebrating sport because we are passionate about sport, more so than pretty much any country in the world, so to celebrate it on our own shores is a wonderful thing to behold."