World record for Rudisha
Kenya's David Rudisha won Olympic gold in the 800 metres in a new world record time of 1:40.91 on Thursday.
Last Updated: 09/08/12 11:19pm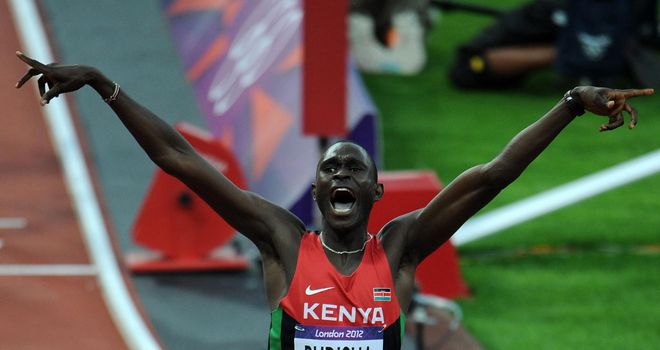 David Rudisha broke the world record over 800 metres as he sensationally stormed to Olympic gold on Thursday night.
The Kenyan stormed through the first lap in 49.28 seconds before powering to victory in one minute 40.91 seconds.
That took exactly one tenth of a second off his previous record as all eight finalists set a season's best, personal best or national record.
Teenager Nijel Amos of Botswana claimed silver in a national record of 1:41.73 ahead of Kenya's Timothy Kitum, with Britain's Andrew Osagie taking 0.71s off his personal best despite finishing eighth.
Amazingly, Osagie's time would have won gold at the last three Olympic Games, while it also took him fourth on the British all-time list behind Seb Coe, Steve Cram and Peter Elliott.
Coe's world record of 1:41.73 - the exact time run by 18-year-old silver medallist Amos tonight - stood for 16 years before it was first equalled and then broken by Denmark's Wilson Kipketer, while Rudisha then broke it twice in seven days in 2010.
The softly-spoken 23-year-old won the world title in Daegu last year and had even spoken about the possibility of facing Usain Bolt in the 4x400m relay in London.
That cannot happen after this morning's heats saw Kenya disqualified and the Jamaican quartet fail to finish due to injury, but it is a mouthwatering prospect.
Amazed
Osagie, who has now improved his personal best seven times this season, said: "Oh wow, that was some race to be a part of. I would love to have been watching from the sidelines.
"I think an athlete like David Rudisha deserves so much respect, even though you're trying to beat him. And when he performs like that in the third round of an Olympic Games, there's not really many people that can beat him, but I am so happy I got to be a part of the Olympics this year. It was such a big achievement for me.
"To run a personal best in the final is unbelievable. I think any major championships I would have got a medal with that time. My aim this Games was to run 1:44 flat in the final and hopefully that was going to be enough to be up there. Unfortunately I've run a little bit quicker and finished right at the back of the field.
"It's just one of those things, next year I am going to come back, I'm going to be strong and faster. This is my first sort of international season where I've managed to last from May until the championship so it bodes well for the future for me.
"Going into this season my PB was 1:45:3 and I've now run 1:43.7. It's a big jump if you look at it like that, but I've always been there or thereabouts, working my way up this season."
Tribute
London 2012 chairman Coe, who was watching in the crowd, paid tribute to Rudisha.
He said: "That was simply an unbelievable performance. David Rudisha showed supreme physical and mental confidence to run like that in an Olympic final.
"Instead of just doing enough to win the race he wanted to do something extraordinary and go for the world record as well.
"Rudisha's run will go down in history as one of the greatest Olympic victories. I feel privileged to have witnessed it in London."