In at the deep end
Emma Bird took to the water with Olympic silver medallist David Davies for a swimming masterclass.
By Emma Bird
Last Updated: 23/03/12 3:25pm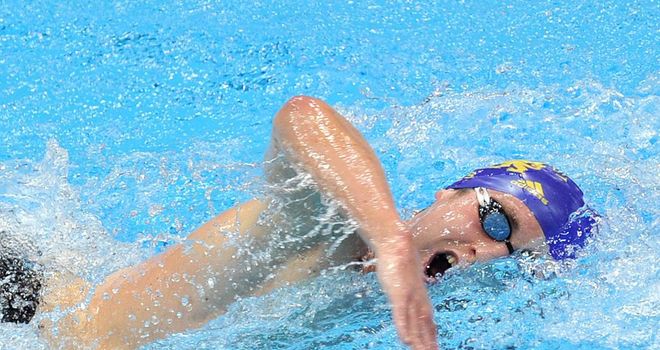 With two Olympic medals as well as years brimming with experience in the water, David Davies is not an athlete you would want to find yourself up against in a swimming pool.
So, what did I decide to do? That's it, you've guessed it - I went swimming with the man himself - he is preparing for London 2012 and I was preparing to be put through my paces by a professional Olympic athlete.
I thought on first sight, the pool at Imperial College in London was rather 'do-able;' it wasn't the long 50m stretch that I had been preparing myself for and as a regular recreational swimmer, I wasn't feeling too daunted by the situation at this stage.
But then it happened. A long, army-formation of young men and women paraded onto the poolside, with their 'Imperial' speedos and costumes, swim caps and goggles. Nobody told me the University swim team would be joining in!
After a very amusing photo-shoot with the British Airways cabin crew, also at the swimming lesson as a thank-you from David to his sponsors, the airline staff joined me in the slower lane - or as one of the swimming coaches named it - 'the lane for the slightly more novice swimmers.'
Glide
David was first in the pool, starting with a demonstration at warm-up speed. This, to us all, was by no means slow in any sense of the word. His body twisted and turned through the water as he seemed to glide through like there was nothing prohibiting him. We later learnt that this was the art of swimming - to move with the water and not to fight it.
He gradually increased his speed, yet remarkably no matter how fast he went his technique and smoothness through the water remained constant.
Then it was our turn. After a few warm-up lengths, at much slower pace than the Olympian I might add, we gathered for our first lesson in front-crawl skills, aiming to understand David's performances in his 1500m event.
The expertise it seems is to keep a continual movement with your arms so that they never touch at the front of your stroke. They almost make a 'C' shape in the water as they rotate. We also got taught how to push and glide - something fairly basic you may think, but it was certainly a step-up from what I learned at my swimming lessons back in school!
What I quickly realised throughout the session was how vitally important every tiny aspect of swimming is, from the first entrance to the water to how you hardly move your head to take a breath.
Professional swimmers like David make it look remarkably easy but in truth, the skills and precision involved is astounding.
'Sighting'
After the freestyle session, we moved on to David's other event, the open water swim. Now, I know we were in an indoor swimming pool, but the athletes train for all events inside for most of the season. There are some tricks of the trade though to create an open water feel to the training and these were what we were briefly introduced to.
The two main differences between the events are that in open water you have to 'sight' more, which basically involves lifting your head from underneath the water much more often and more prominently than indoors, so that you can see the course ahead of you. The other, is that with no lane lines in the rivers and seas, buoys are used as distance markings.
With these, there is a certain manoeuvre, turning around the buoy, which is crucial in the outdoor event. You must swim up to the coloured buoy normally but as you approach it, you turn onto your back and twist around it. I achieved this move on my first attempt and finally felt like I was not so bad after all!
I learnt much more from the swimming lesson than I thought I would and David was very hands-on, helping individuals with small tips and pieces of advice.
I have always enjoyed swimming and now I understand more about the technique, maybe I will be a little faster and slicker through the water. One other thing I now know is the vast amount of hard work and dedication that goes in to being a professional athlete of any kind. I have new-found respect for David and his fellow sportsmen and women as they embark on their biggest battle of their lives in 2012.
Finally, another fact I discovered. Never underestimate the skills of cabin crew - they were far better than what they made out at the start but at least I know I would be in safe hands on any of their flights!
British Airways, the official airline of London 2012 Olympic and Paralympic Games, is proud to support David Davies by flying him around the world as part of his training and racing schedule as he prepares for London 2012.