GB dominated by Italy
Britain's women suffered a crushing 42-14 to Italy in the quarter-finals of the fencing team foil.
Last Updated: 02/08/12 12:07pm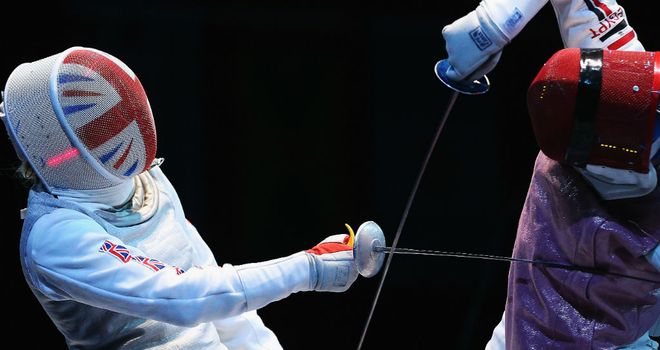 Britain's women suffered a crushing 42-14 to strong title favourites Italy in the quarter-finals of the fencing team foil at the ExCeL.
Natalia Sheppard, Sophie Troiano and Anna Bentley had beaten Egypt 45-34 to set up the clash with the three medallists in the individual competition.
And when they face the Italians the gulf in class was obvious from the start as Elisa Di Francisca, Arianna Errigo and Valentina Vezzali - gold, silver and bronze in the individual event respectively last Saturday - cruised through.
The other three quarter-finals still had a long way to go when the British trio exited the arena to the applause of the sympathetic crowd.
The only one of the trio to avoid defeat in any of the nine contests was Sheppard, but her 2-2 draw with Vezzali in the closing three minutes came with the overall outcome in the bag.
Losses
Sheppard had lost 5-0 to Di Francisca and 5-4 to Errigo, while Troiano came out of her three bouts with only one point against Errigo.
As for Bentley, ranked 165th in the world, she could feel relatively content after she took three points off Errigo and two off Vezzali and Di Francisca.
Earlier Sheppard led the way against the 18th-ranked Egyptians by winning all three of her contests by a combined 22-11 margin, being supported well by her team-mates.
Although the Italians were overwhelming favourites for quarter-final clash, Britain had held them to 39-34 in the last eight of the European championships in Sheffield last year, meaning the large margin of defeat was another disappointment for a 10-strong home squad which failed to get anybody into the last 16 of any of the individual competitions.
Britain, 13th in the world, still had to fight to decide the fifth to eighth place ranking, with a clash against Poland next up after they lost to France.