Future impact
Perri blogs about the World Indoor Championships and inspiring a new generation of leading women.
Last Updated: 08/03/12 4:26pm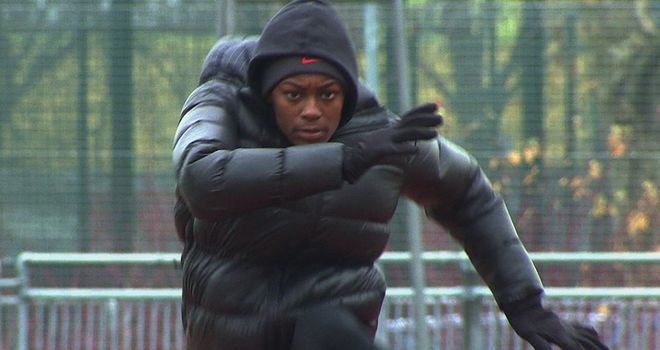 Well so much for spring being here - today at training I had to get my big jacket on, the same one I wore in the Sky Sports News Special Report. I was hoping to pack all my winter kit away but I guess it will have to stay out for a little bit longer.
I am hoping the weather is a bit better in Istanbul - although I guess because it is the World Indoor Championships it does not really matter!
I am really looking forward to it. I am running in the 4 x 400m relay which should be great. It is my first indoor race ever and I think the relay is a nice way to ease myself in. In some ways it's less nerve wracking than doing the individual event because you have your teammates to talk to and feed off. However in other ways it's more, because you can't let anyone down.
In the indoor event the track is only 200m long, so you have to run around the track twice which will be new for me - there will be no wind or any weather to worry about, just getting a good performance in.
In Istanbul I will probably be sharing a room with Asha Philip. We were in the junior team together and she was the world youth 100m champion in 2007. She was brilliant on the trampoline too and during the world trampoline championships the same year she picked up a bad knee injury.
It has taken her a long time to get back but I am so happy she is coming to Istanbul where she will run in the 60m. We have such a great time together with a shared taste in music and gossip!
I am also really excited that my new website is ready. It launched this week, so look out for PerriShakesDrayton.com.
I have also been on the lookout for the mystical Nandos black card. It actually exists although I have never seen one. I have a loyalty card like everyone else does, but it is one thing I really wished I had. I have heard that Tinchy Stryder has one!
This Thursday marks International Women's Day which I think is a great thing for us to celebrate. It's important that we keep on striving to compete at the highest possible level, we need to continue to stretch those boundaries and to allow young girls the best opportunities they can get. I am not just talking about sport, but in all walks of life it is vital that we are allowed equal opportunities and to make the most of our chances.
The woman I look up to the most is my mum, she is a very independent woman and I believe that has helped me in my sport. Being brought up by a strong, independent woman has really made me focus on what I need to do to achieve my goals.
I hope what I do can help inspire some of our young women to realise their full potential.