Mixed emotions
Jody Cundy updates us on the Para-Cycling Track Worlds at which he experienced sporting highs and lows.
Last Updated: 07/03/12 1:47pm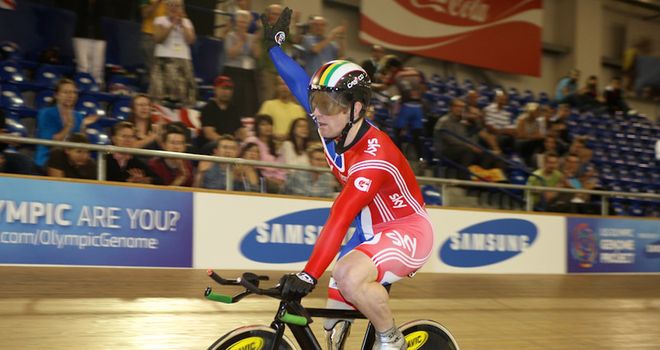 The Para-Cycling Track World Championships got off to a tricky start in the 4km Individual Pursuit, as I had to abandon my qualifying ride after the first lap due to an official being stood on the track down the back straight!
With my coach arguing the point with the UCI commissaires, I was allowed a restart, but I'd be on my own, which in a 4km pursuit is a slight disadvantage. I finished in a time of 4:55.958 which is significantly slower than my qualifying the previous year, but due to the conditions and track, most riders were five or more seconds slower than 2011. However, my time was still good enough to put me in the bronze medal ride off.
I have to say it was one of the toughest pursuits I've ever ridden, mentally and physically, even though it wasn't too quick. With the way the track was running I had decided to go down to a lower gear compared to normal, but once I'd finished I wished I'd gone even smaller, as I fatigued through the ride as the gear got heavier to push through the tight banking's.
Mentally it was tough riding on my own, and not really knowing when I was going to be riding again, so to make it through to a medal ride was a relief.
In the bronze medal ride I got off to a quick start, feeling great on the smaller gear, and was well ahead of Roberto Garcia Alcaide. As I came through lap two, I was surprised to see him entering the next bend. At that point I tried to use my sprint speed and go for the catch, and the race was all over in five laps.
Before the race I hadn't planned to go for the catch - I wanted to try and make up for my disappointing ride in the morning, put in a good 4km time and continue learning how to back up my morning ride.
Capital gains
Ultimately, London is my main goal and I am still learning in the pursuit. It's a very different event to the kilo but I am not a million miles off from where I want to be - at the top spot of the podium.
Of course, I would have liked to post a faster time in the qualifying as my time didn't reflect my good shape at the moment, but it is all about the learning experience and I've learned a lot.
Next up was the 1km time trial. As I was defending World Champion I had the honour of starting last and watched all my competitors before me. After the first lap I was already more than a second up on the best time from Jiri Bouska and increased this to 3.024 seconds by the end of the kilometre, to finish in 1:06.001 and take my fifth consecutive title in the event.
Before the race my legs weren't feeling at their best and I almost didn't feel ready to race, but sitting in the start gate I knew that I just had to give it everything and run through my race plan. By the time I'd reached the end of the first lap I could feel the speed wasn't as high as normal and the race was going to be hard work.
As I finished the race I crossed the line in what almost felt like "pursuit mode," but a win's a win and I just need to look at the data to see what went wrong and what I need to work on before doing it again in London.
I was a little disappointed being .001 away from a 1:05. Also it's the first time ever that I've won a World or Paralympic title and not broken the world record at the same time.
Mixed emotions
On the final day of the competition I raced in the mixed team sprint alongside Darren Kenny and Sarah Storey. We started the competition as defending champions and felt with the recent rule changes and the team we were running, that it would be business as usual.
However the pressure was on after the Chinese posted a time of 51.152, quicker than we'd been in training. But Darren got our team off to a great start, quickest of all the teams. In the second lap Sarah lost a little bit of time to the Chinese but delivered me at good speed into the final and I crossed the line at 51.114, only .038 ahead of China. It was certainly a lot closer than anyone was expecting but we'd performed well and knew there were fractions of a second we could find in the second run.
With both teams so close, it was obvious that the gold final was going to be exciting to watch. However disaster struck at the start of the first lap when Sarah slipped through the attachment on her handlebar, which she uses to compensate for the lack of grip caused by her disability. It couldn't have happened at a worse time, as Sarah slipped at her weakest part of the race, which unfortunately is Darren's strongest part, and a big gap between the two quickly developed. Without the important slip stream from Darren it was going to be a long lap two for Sarah.
By the time I took to the final lap Sarah had recovered her speed but the gap to the Chinese was too big to make up, so we had to settle for silver behind the Chinese who put in an amazing performance improving 0.6 of a second from their qualifying ride. This was the first time since 2007 that we had not won the team sprint title, but it's better to finish second now, rather than in London. Lessons are to be learned so that we can step back onto the podium as gold medallists in London.
I think with more practice, we could have been better; we were a little too complacent with the team sprint as we've always won it comfortably, but with minimal practice it had a big effect on our performance.
We've got a lot of technical things that we can improve on easily and all of those give us free speed. Ultimately, we were beaten by the better team, but now we have a goal to work for and ideas of how fast the rest of the world is under the UCI's new rules.
Fantastic support
I have been working incredibly hard up to this point, but there is still a lot more work to do for London. At the World Championships I defended my kilo title and also picked up a silver and bronze in the Team Sprint and Pursuit.
What has been really amazing though is the support myself and the team got from the fans back home. I'd like to say thank you to all of you, it really does mean a lot to me and I can't wait to get to London and perform in front of a home crowd.
Training for the final six months in the run up to the Paralympic Games will start next week, after I have enjoyed a short holiday with my family in Los Angeles.