On your bike
Irish handcyclist Mark Rohan is delighted to have a brand new racing bike.
Last Updated: 16/12/11 2:42pm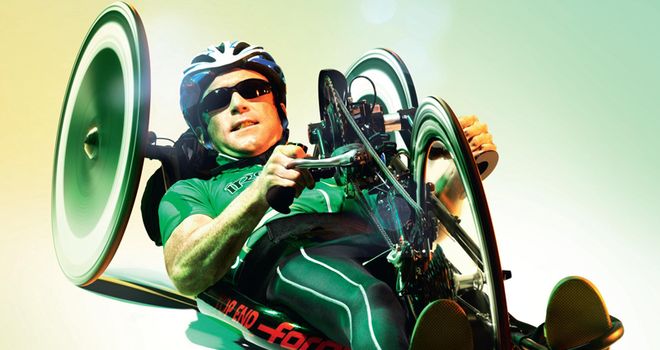 I'm now the proud owner of a state-of-the-art bike!
Costing £8,000 and weighing 11kg, it is 3lbs lighter than my previous one and is kitted out with the best components around so I should be able to go faster than ever.
The design is tailor-made for me, right down to the millimetre, and it moulds around my body to make the bike as aerodynamic as possible. The pedal position has been altered too so that I can generate more power. All in all it's a great bit of kit.
I flew over to Florida just before the bike was finished to make sure everything was perfect.
First, though, I spent a day at Universal Studios where I went on my first rollercoaster. I got the bug and went on a few even though I passed out for about two seconds on the Rockit!
The following day I drove to Clearwater, where my hand-cycle was being finished, and road-tested it for the first time before making one or two tweaks.
I returned the next day to make sure everything was ok and then made for Miami to catch a college football game. While I was there I watched a documentary on 'The U' as part of ESPN's '30 for 30' series, which I'd recommend to anyone.
I spent the 10th anniversary of my accident chilling on South Beach, which was tough to beat!
Exciting
America is an amazing country when it comes to accessibility so when I returned to Orlando I decided to go water-skiing for the first time!
I was nervous on my first couple of attempts but once I got the hang of it, it felt incredible. I love trying new sports so it was a great couple of hours.
I flew back to Ireland without my bike - it turned up on a different flight two days later - and went pretty much straight to a Paralympic Ireland training camp in Limerick.
I couldn't do as much on the road as I would have liked due to a slight nerve injury in my elbow but I did do some work in the pool; in fact I re-learnt to swim, which took a bit of time!
I get a bit frustrated when I can't get into my training because - as much as I love the adrenaline rush of lining up for a race - training is my favourite part of the sport, simply because it's more relaxed.
I'm not match-fit yet but I have finished rehab on my elbow and now I've completed my first full week of training, I'm looking forward to getting stuck in again.
Having a new bike only makes it more exciting - I can't wait to get out there and see how quickly I can adapt to it and how fast I can go.
Honour
I was honoured to find out I'd been shortlisted along with jockey Joseph O'Brien and the Irish Cricket team for National Athlete of the Year at the Canon Hayes Sports Awards in Tipperary.
Earlier this year Joseph, son of the trainer Aidan O'Brien, became the youngest jockey to win a Breeders' Cup race while the cricketers beat England at the World Cup so I thought I'd have no chance!
It was a real surprise to win and I'm more inspired now than ever to excel at the Paralympics.
It's quite an achievement when you look at the names that are already on the trophy - the likes of John Oxx, Sonia O'Sullivan, the Munster rugby team, Paddy Barnes. I'm still taking it in!
It was a particularly special day for me as I gave Ray Houghton a lift to the ceremony! I thought someone was winding me up when I got the call asking if I could help out, but it turned out to be true.
Ray was doing a function up in Ballina so I picked him up at 4pm and we even stopped off on the way so, at my request, he could meet some of my family.
It was absolutely no bother for him. He came in and had a chat with my grandfather and a few of my nieces, nephews and first cousins, which meant a lot to me.
It was an honour to meet Ray and he was a more than deserving winner of the Mick Doyle Golden Memory Award. His goals against England and Italy in 1988 and 1994 really are the stuff of legend!
Fresh
There's still over a month until my next race, which will be in South Africa in January.
I'm hoping that the weather stays as mild as it has been until then so I can spend more time training outside, which I much prefer to sessions indoors.
I met up with all of Team Ireland's strength and conditioning coaches recently and we came up with a plan for the next nine months.
I'm in the middle of an eight-week strength phase at the moment and I'm loving it. The 40-minute workouts are really invigorating and I can feel the benefits already. All in all I'm feeling pretty fresh.
I'll let you know if it stays that way!
Mark