Jess in the saddle
For her first Sky Sports blog track sprinter Jess Varnish introduces herself and her aims for 2012.
Last Updated: 08/11/11 10:03pm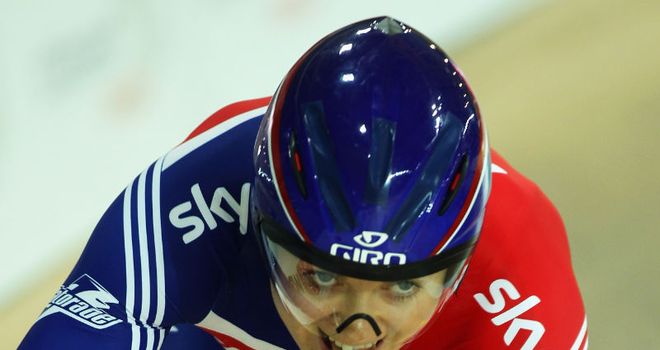 Hi everyone my name is Jess Varnish. I am a track cyclist based in Manchester hoping to compete in the team sprint at the 2012 Olympic Games in London.
I first got into cycling through my dad. He was a world champion at cycle speedway so I used to go watch him do his mountain bike races. He did a bit of road racing too so I watched him and I did my first race when I was about five! So I've been racing quite a long time.
I started off doing mountain biking and then we both joined Halesowen Cycling Club which had its own outdoor track. That was probably when I was about seven and I started to get on the track and I was racing every week. I never used to train, my parents were just happy to let me do what I wanted to do. I did a lot of other things as well I just enjoyed cycling at the time.
Now I'm a full-time rider focusing on lap one of the team sprint for the Olympics. It's given me a proper focus. That's where I see my place being in 2012 and that's what I'm going to train for now. So having a really specific focus is helping me I think.
When I describe the event to people I tend to say the team sprint is made up of two riders. Man one, which is my position, does a standing 250 metres on the black line on the bottom of the track. Then my partner, who at the moment is Victoria Pendleton, gets on the wheel on the first lap then does the final lap. So the whole event is 500m but I just do 250m to get her up to speed for her final lap. The first lap is very important because I need to be fast to slingshot Vicky through for her lap and it makes us faster over the whole event.
Training
To be able to train and compete alongside Victoria Pendleton is very helpful and obviously Vicky has been to a few Olympics now and she is really experienced. So it's nice to have someone like her on my side and it's just a privilege to say I'm doing the team sprint with Victoria Pendleton. It's really exciting and I love it.
Our season got off to a good start at the National Track Championships in Manchester with first in the team sprint. I actually had quite tired legs as I'd raced the day before. I'd raced two days before too in the 500m sprint which is an extra event for me to have a go at. So it was quite good to see how I went with tired legs. We were still training through that week so it was useful to see how we were in training with our form and how we can progress that.
It was just good to have a practice because Vicky is training for two other events in the Olympics so it was really nice to have a day focusing on our team sprint.
I was also able to win the 500m TT which was great. I never really have to do much length training so that was quite long for me. I managed to get up to speed and I just used it as practice for my lap, getting in the gate and things like that. It was all geared to work towards my standing lap which was a couple of days later in the team sprint.
It was a bit of a nervous wait for Becky James to come around. It always is. You get up and do your time and there is nothing you can do then. You've just got to wait and see what other people do really. You go out and post a personal best time but you never know what anyone else is going to pop up and do. But the thing is, you've gone out there and obviously when you've done a PB it is your best - you can't ask more than that.
Rivalry
Me and Becky always have to race against each other. It's really close between us at the moment. We raced in the under-23 Europeans and managed to get a bronze medal in the ride-off against her. So I beat her there and she beat me in the sprint at the nationals. It's just great having that kind of competition and having people like that in the team who you can push on against.
Eventually we're going to both want to be the top female in Britain. It will be very exciting when that happens but at the moment it's just all about 2012 and obviously I'm just training for one lap.
That's what I'm really focusing on at the moment. When I do start to train for individual sprint and keirin my training will change drastically I think but at the moment it's all about next year.
Next up we go to the European Championships on Sunday and we race next weekend. I'm really looking forward to that. It's our first international completion this year so it will be really good to see how the other teams are going as well as us.
It would be great to go and put a good time down. After that I will hopefully go to Kazakhstan for the first World Cup. Then it's just a matter of getting back down into training and hopefully getting selected for the World Cup event in London.
It's an exciting time and I will keep you posted in my next blog.