Trott on track
In her first blog for Sky Sports track talent Laura Trott explains her aims for the Olympics.
Last Updated: 17/10/11 1:21pm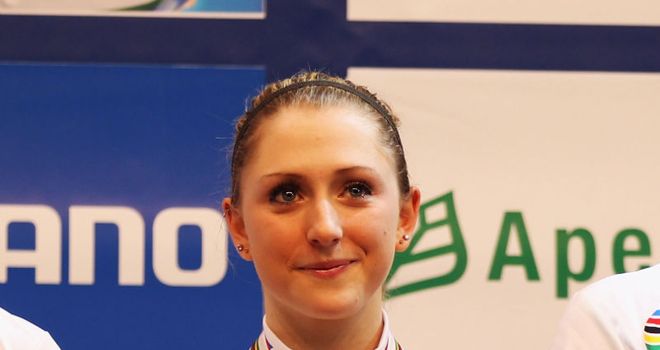 Hi everyone my name is Laura Trott and I am a track cyclist based in Manchester on the Olympic Podium Programme. In these blogs I will take you through my season as I prepare to hopefully earn a place at the 2012 Games in London.
I originally started out as a swimmer but it was my mum who first got me into cycling because she wanted to lose weight. She found out that cycling was really good for that so we went down to Welwyn Garden City which was my local track. Me, my sister and my mum and dad went down to watch a Friday night track league and from then on really that was it. We went for one little taster session and I was hooked.
I've always liked being in competitions. I used to take part in athletics in primary school and I just liked the feeling of winning. The events that I'm aiming towards at the Olympics on the track next year are the omnium and the team pursuit.
It's difficult to describe the omnium to people as nobody really understands what it is. The easiest way to explain it is like the pentathlon in athletics but the cycling version. It's your average rider who excels. You don't actually have to win an event you just have to average high in everything. So if you are Mrs Average in everything really that's great as you can finish fifth in every event and still medal in theory.
There are five girls going for three places on the women's team pursuit. I really like the fight for places as it always keeps you on your toes. You are pushing each other as well as striving for yourself. I like that feeling, that I still have people pushing me, as I feel it helps me get better.
Growing stronger
I've moved to Manchester now as part of the Olympic Programme. I found it pretty hard to start with. To go from being an 18-year-old and having nearly everything done for you to living on your own was pretty full-on for me. I was finding it hard to juggle between training, washing my kit and making sure I hard dinner on the table! Especially for the first week as I didn't have a flatmate to start off with but now I'm rooming with Katie Colclough. She's a lot older than me as she was 21 this year and has experienced it and knew how to balance everything.
There's a group of us in the same position and it's really nice as we all get on really well. We are all in the same block of flats in Manchester so we spend pretty much day in day out with each other. Off the bike I just treat everyone as a friend but obviously on the bike it's a completely different story. It's dog-eat-dog and very competitive.
My sister Emma is also a cyclist which has been a really big help. Obviously I've got friends who are in the same situation but it's a lot easier to talk to your family. Having Emma, she's been through the same experience as me and she gets just as nervous as I get. It's nice to have her in the sport as well as I can just ring her. She was commentating at the World Championships at the start of this year when I was competing. The Worlds for me was the biggest event that I'd ever done so to have someone there to talk to and calm my nerves was really good and I took gold in the team pursuit.
Nationals
The track season got started with the National Track Championships recently and I was second in the individual pursuit, second in the points, second in the scratch and 3rd in the 500-metre TT.
This is what I mean about the omnium. I didn't win an event but I was really pleased. The individual was my best I absolutely smashed my personal best. I did a PB when I was at the under 23 Euros this year and I was absolutely flying then. I didn't think I could go any better but to have taken the time out of it that I did is amazing. I looked up at the board and saw 2:30 and I couldn't believe it. I thought the clock must have stopped the lap before!
In the omniums at World Cup events I've been finishing around fifth in the individual but that's because I've been around the time most others can do, around the two minute 36/38 marker. But now having done a '30' I should be higher placed in that event which will be useful.
I think my progression is due to the programme that I am on now. Before I was on the junior plan and there are only so many riders who can push you. But now with the senior programme when I got on it everyone was a lot stronger than I was. I was having to play catch up almost and obviously they have pushed me along the way which I why I think I've got a lot stronger.
Next up for me are the European Championships in Holland where I won my World Championship in Apeldoorn and then some training on the new Olympic Velodrome in London. I will let you all know how I got on in my next blog.