Making a splash
Richard Moore believes the women's open water swimming has showcased the best of the Olympics.
By Richard Moore
Last Updated: 10/08/12 8:54am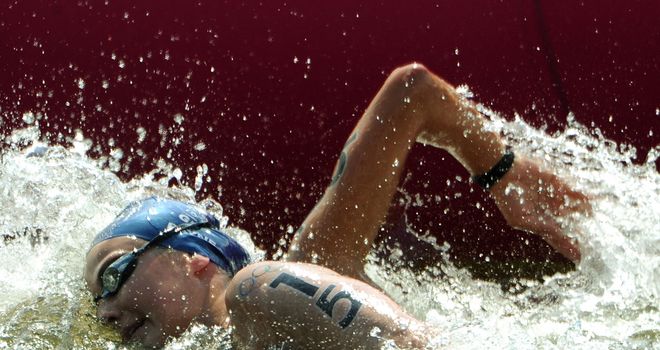 Once again a free public event, in this case the women's open water swimming, showcased the best of the Olympics and the best of London.
Thirty thousand people lined the banks of the Serpentine for the marathon race over 10km, watching a pack of splashing, thrashing swimmers work their way up and down, up and down, up and down, accompanied by a flotilla of boats.
The Serpentine will never look the same again. Ordinarily it is populated by pedalos and leisure boats, and its only brush with high level sport prior to the Games was Andrew Flintoff's recent successful attempt at the world record for 100 metres on one of the pedal-powered vessels.
Yet here it was, transformed into an arena that would bear witness to one of the toughest, most gruelling events on the London 2012 calendar.
The swimmers are presented, one by one, on a plum-coloured gangway built into the Serpentine. It is like the swimwear segment of a beauty contest, but in half-wetsuits, goggles and rubberised caps rather than bikinis. They pad in ungainly fashion down the gangway, like fish out of water, then line up to dive in. Stretching out in front of them is two hours of swimming.
Two hours! It is almost inconceivable that anybody can swim that long, never mind race flat-out. And the distance is bonkers: 10km, or 200 lengths of an Olympic-sized pool. Or 400-plus lengths of the pools in most leisure clubs.
In they dive, and begin brawling. None of this lanes business, it's a free-for-all, a rammie and a stramash. There's kicking and slapping; the odd punch perhaps, and maybe an accidental gouge or two. It's a surprise, when they re-emerge two hours later, that none of them are missing teeth or sporting black eyes.
Keri-Anne Payne is the great British hope, the silver medallist in Beijing who, these days, is as recognisable as the face of various beauty products. Well, she does have the face for it. But there is a lot more to her than that, and here she is scrapping with 24 other swimmers as they set out, swimming towards Hyde Park Corner on the first of six laps.
Peloton
It's interesting that they swim as a tight-nit pack, like a peloton in a bike race. And the principle is the same: it's easier to swim in the wake of another swimmer, just as it's easier to ride in the slipstream of another cyclist. 'Easier' is a relative term, of course.
And so they swim as a shoal - hey, fish must understand the peloton principle, too - but it's as though this shoal has been caught in a net, or the water's too shallow. From the shore they resemble mackerel, thrashing and writhing as they proceed up the Serpentine, to the first turn.
Payne is not a big fan of the argy-bargy, and she isn't all that used to it. She jokes later that she is "not a fighter -- I'm a lover, I guess." She is also a two-time world champion who likes to lead from the front, and is usually able to do that. Here, however, she finds herself stuck in the middle of the shoal, a little trapped, and at one point disorientated.
Her sense of disorientation -- something that will be familiar to anyone who has swum in open water, without the security of lanes and lines on the bottom of the pool -- comes at one of the feed stations. "It's about who makes the right decisions," she tells us later, "and I think I made an error on the third lap when I went in to feed.
"Everyone wanted to be on the right to go round the buoys, but the feed station was on the left. It was a decision whether you could go for a feed and then make it back around to get back on the right. After that I got hit a few times, and was a bit disorientated; I had no idea where I was going and had to work quite hard to get back up to the position I like to be in."
Payne's fiance and fellow swimmer, David Carry, was standing on the banks of the Serpentine. Carry competed in the men's 400m freestyle and 4x200m, ten days ago, but he has remained in race mode on his fiancee's behalf. This was partly so she wouldn't lose focus, he told me, while the other swimmers all finished in the pool, and entered party mode.
Remarkable
"We identified the last week as a crucial time for her," Carry said. "So I said I'd train with her. We trained together in the warm up pool in the aquatics centre, five or six kilometres at a time."
He was pacing her? "I was trying to keep up, to be honest."
The other remarkable thing about the marathon swim is that, after 10km, it is so close. Four swimmers come into the final 500m together, with Eva Risztov of Hungary slightly ahead. Payne is fourth, and puts in a fast, Mark Cavendish-style finish, almost catching Martina Grimaldi on the line, but agonisingly missing out on a bronze medal. Perhaps, to borrow another concept from road racing, a lead-out train would help.
"I struggled in the pack a little bit with all the fighting," says Payne, having clambered out of the water. "I got hit quite a few times in the face. I tried to deal with it as best as I could but it took more energy out of me than I was expecting.
"We're all in such close proximity and it seemed to be a pretty violent race from the start. I didn't want to work too hard and not having anything left at the end."
She was disappointed, naturally, but satisfied that she had given it her best, and gracious in defeat: "I have worked so hard for this, trained for the last 12 years of my life for it, and I gave it absolutely everything I had. The top three girls are all absolutely outstanding swimmers, so I can't be too upset to lose to such great athletes."
As for the crowds by the banks of the Serpentine, they lounged in the baking sun and enjoyed the spectacle. And it was a spectacle. Better, dare I say it, than the pool.