Panel - Day 8
Throughout the Games, the Sky Sports News Olympics Panel will bring you analysis across a wide range of sports. Here's what our experts had to say on the stories coming out of London today...
Last Updated: 05/08/12 10:25am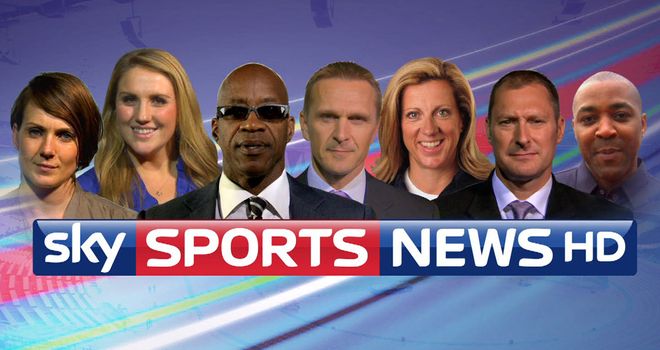 Brian Smith hails the comprehensive victory of the women's pursuit team
"To see the men do it last night was great but the women have topped this. They qualified with a world record and then in the next round they set another world record and in the final they didn't have to set a new world record. But it was there for the taking and they took it. Tremendous. You have to remember that Laura Trott is 20, Dani King is 21, Joanna Rowsell is 23 so it bodes well for four years time. These three girls have done fantastically.
"The GB cycling squad is the strongest it has ever been but I think there is still more. We have a lot of young talent coming through and there is money coming in from the lottery and Sky. All this helps filter down and it is great to see. The money invested is getting us gold medals."
John Regis on who impressed during the 100 metre heats
"They all qualified comfortably. They all looked as though they are ready and rightfully so. But Yohan Blake, of all the big five, looked as though he was the most comfortable. He looked assured, he looked strong and relaxed. He ran 10 flat the way most athletes would run 11 flat. So the athletes here are ready, prepared and it is going to be a cracker. Everybody who should have qualified did."
Edwin Moses on Dai Greene's nervy qualification for the 400 metres hurdles final
"It was a relatively sloppy performance. After the second hurdle he did not do much at all. But that is the nature of the event. You have to set your self up for the final in the semi final, but he is not in a secure position now and I am sure he has a lot going through his mind.
"Felix Sanchez ran very well. Javier Coulson is not running well and Angelo Taylor didn't run well so I think it is up in the air for Monday's final. I would just forget about it. I think that he just got out slowly and he didn't perform the way he can."
Kelly Sotherton says Jessica Ennis will be eyeing a big finale
"Jesse will go into the 800 metres not just to win it. She is not far off 7000 points and she would be the fourth or fifth woman ever to surpass that total so I think she will be going for a really big 800 metres too.
"What is amazing about Jesse is that she has handled the pressure. She has been the poster girl since 2009 and she has dealt with the pressure so well. It is so good to see somebody who has been pinned up as the golden girl and actually delivered. And the good thing about heptathlon is that it kind of sets the precedents for the rest of the team. She will be our first gold medal winner, and then hopefully it will be Mo and then one of the long jumpers. So she sets the ball rolling in athletics for Team GB."
Jon Ridgeon on Jessica Ennis being on the brink of heptathlon gold
"We can't put the medal around her neck prematurely but it is looking great. She did a really solid throw in the javelin, the sixth event, so it is coming together really well. I think Jess will win. The issue is how big will the score be. I think she might be good enough to go through that magic barrier of 7000 points. So she is having a fabulous time and really enjoying it now. She knows the finish line is in sight."
Jon Ridgeon on Mo Farah's bid for 10,000 metre glory tonight
"The pressure is on for Mo Farah but yes I think he will win tonight. I think tonight is his big chance. The 5,000 is actually very, very competitive. Tonight is a less competitive race and he is in the form of his life. I think Kenenisa Bekele will get silver and Galen Rupp, who trains with Mo Farah, can be a surprise bronze medallist. The worry is that the Ethiopians and the Kenyans both have three very strong athletes in the race and they might work as a team against Mo tonight. That is my biggest concern."
Nick Gillingham on the Brits' prospects in the pool tonight
"Fran Halsall was pretty angry after the 100 metres freestyle. She performed a little under par. At her very best she can match Ranomi Kromowidjojo so I am going to give Fran a very solid silver medal in the women's 50 metre freestyle. She will need to be off very quick and use her strength to match the speed of the Dutch lady. Certainly a medal for Team GB.
"Daniel Fogg swam very well - within half a second of his lifetime best - in the heats of the men's 1500 metres so I am quite sure he will swim well inside his PB. And that is what he desperately wants. He may just be a little out of reach in terms of medals with Sun Yang from China likely to win it.
"I think the British women's 4x100 metre medley relay will swim really well and get a creditable fifth place. Australia will be really strong and the US didn't have their full team, they had a B team, in the heats. So it will be Australia and Japan in third.
"I think the British men will get a medal in the 4x100 metre medley. The Olympic medal is the only one that has eluded Liam Tancock and he is desperately hungry to get that one. I think the team is on fire, they qualified in second. I think the USA will take gold and GB to take bronze."
Nick Gillingham on the disappointment in the pool for Team GB
"I don't think the management will be totally happy right now and I am disappointed with the team. I think they would have wanted a lot more on an individual level if you look at performances. Medals equal funding so there are all sorts of issues behind the scenes that need to be addressed there.
"If we look at the performance in general across the team we had 49 races at the Olympic trials and 26 personal best times from the 44 swimmers that got through. If here we are down at 7% so it is going to be an interesting debate as to how the coaches and management are going to identify the success of the swimmers here.
"The trials were positioned right in March. The swimmers were best prepared coming in and so motivated for success here in London. May be they were just too hungry and tried too hard. May be they did something different to their training programme or maybe they did not rest up enough."
John Regis on Usain Bolt's victory in his first-round heat of the 100 metres
"He did what was required. His start, which has been his sticking point looked okay so I think we are in for an interesting final when we get to that point. What you are doing is trying to qualify for the next round and qualify in a position that will give you one of the seeded lanes, three, four, five or six. Usain finished first and is into the semi-final where you will see a fast time. There are three semi-finals and you must perform to get into the top two. You have to put down a very fast time indeed then."
Marlon Devonish on the Dwain Chambers and Adam Gemili in the 100 metres heats
"He (Dwain) had a really good clean start, his transition was great. He was trying a little bit too hard and then switches off towards the end of the race. Excellent race for Dwain. Adam Gemmill ran well. He has never been in this environment before. He has had a great season so far. People can underestimate how much nerves you have and what you are going through there. I have been there before and I think he coped really well and put himself in a great position.
Jeanette Kwakye on Abi Oyepitan in the women's 100 metres
"We have trained together this year and she has been in great shape. Probably a lot stronger over the 200 metres this year than in the 100 metres but I think she might surprise herself because the track is quick and if she gets a good draw she may go through as one of the fastest losers. But it will be difficult because the girls are in great form and the Jamaicans and the USA girls are absolutely flying. So she will have to get pulled along but I think she is in personal best shape."
John Regis on the blue ribbon event
"It is the race that the Olympics has been waiting for. Since we got the Games we have been waiting for the 100 metres and I honestly believe we are going to witness one of the greatest ever 100 metres competitions the world has ever seen. It would be a dream for these guys to reach the final after years of blood sweat and tears, working hard trying to get into the blue ribbon event in sport. To make it into the 100 metre final and, if you are British to have the crowd cheering you name and the euphoria of the British support will feel like the best race on earth."
Hollie Avil on Helen Jenkins finishing outside the medals in the triathlon
"Helen finished in fifth place and I think she would have been a little bit disappointed with that. She did a really good job today and it looked tough out there on the run. It was good team work because the other girls really worked hard for Helen in that race."Look back at what our experts had to say on day six
Look back at what our experts had to say on day five
Look back at what our experts had to say on day four
Look back at what our experts had to say on day three
Look back at what our experts had to say on day two
Look back at what our experts had to say on day one