Olympic Panel - Day 15
Throughout the Games, the Sky Sports News Olympics Panel will bring you analysis across a wide range of sports. Here's what our experts had to say on the stories coming out of London today...
Last Updated: 12/08/12 9:24am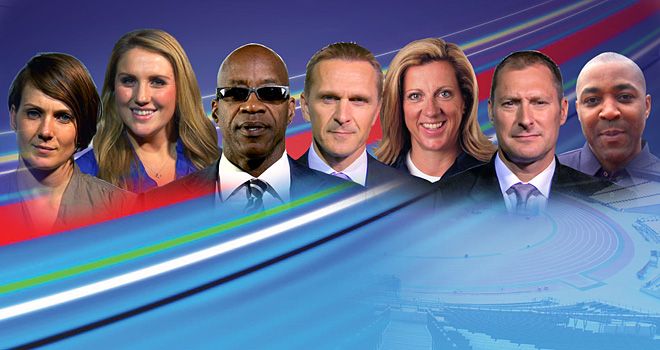 Campbell Walsh on Ed McKeever's gold medal in the 200m kayak sprint
"I said he was the favourite, but he's still got to deliver on the plan and execute it. He was under huge pressure knowing that people were expecting him to win and it's fantastic. It's the second gold medal for canoeing as a whole, having got one on Thursday last week up at the slalom white water course and this is another fantastic result. Our performance director John Anderson's going to be very, very happy.
"In the first half of the race he pulled out a gap of about two metres and then maintained that for the rest of the race. It was a clear victory. Quite often in a 35-second race we're talking photo finishes down to centimetres, but this was a two metre gap and he dominated the race from start to finish."
Jon Ridgeon on Charles van Commenee's pre-Games pledge to quit if the athletics team didn't get eight medals
"That Super Saturday feels like a long time ago now, doesn't it? It has been disappointing because we're not going to get to eight medals. Charles van Commenee did caveat his comments slightly by saying if we didn't get to eight, but got lots of golds, that would be a success as well.
"He'll be disappointed, there's no doubt about it. Lots of our 'medal zones' - people ranked third, fourth or fifth - have not stepped up and got a medal, they've ended up coming fourth or fifth, so questions need to be asked. But on the whole, I'd like to see Charles continue no matter what happens because I think he's been good for the sport. He's brought in a lot of discipline that was lacking beforehand and he's brought a spirit to the team that's good. Even though this week hasn't turned out quite as well as athletics would have hoped, the team is getting better and I think his best days are still ahead rather than here in London."
Marlon Devonish on Team GB's failure to get the baton round in the 4x100m relay
"That's an absolute disaster because I know how hard they train and it comes once every four years. The difficult thing is the likes of Adam Gemili and Danny Talbot have not been in that environment before and I'm bitterly disappointed. They should have exchanged the baton.
"The most difficult thing is everyone has their own individual aspirations and everyone has their own individual training schedules, so it's hard to get everyone together. Fundamentally you win on your own and train on your own more often than you do in a relay. You do your best to stay in the team and there's specific times where you do train together - and a lot more this year than it has been. They would have really tuned into things out in Portugal and unfortunately it's not paid off and I'm gutted for them."
Kelly Sotherton on the decision to include Dai Greene over Nigel Levin in the 4x400m relay
"That was definitely a coaching error for selection. Nigel ran 45:90 in the heat on first leg when you run a little bit further. If he'd run a rolling leg like Dai Greene's he could have run 45:10 or 42:20 and if he'd run that on the flat it would have given us a bronze medal. That was a bad error. Maybe they assumed Dai would have run as fast as Jack Green, but Jack has more flat speed than Dai. That was a coaching error and I know a lot of the team, from what I've seen on Twitter, are disappointed that decision was made. I think they should have stayed with the four they had in the heats."
Carl Froch on three British male boxers reaching gold medal matches
"They all boxed fantastically. Luke Campbell had a very good win and showed some very good technical boxing in his fight. I sparred with Fred Evans for the Bute fight and I've always said he's very strong. He made it look too easy tonight! I thought he might have caught his opponent earlier with a shot. His opponent seemed a bit cautious and a bit worried about coming in and getting involved in a bit of a fight. It was almost and easy night's work for Fred.
"Big Anthony Joshua did the business and I think his fitness showed in the end and got him through the fight. His opponent, who is a big lad at 6ft8ins, was struggling and his heart was working hard all the way through. Joshusa's a big lad too with a lot of muscle, but his fitness was there. Technically he was good, but the Kazakhstani was catching him, even in round one and round two and it was worrying times but he finished strong and pushed through at the end. You've got to be an athlete in this game, you really have, and he proved at the end he was the better athlete and he's in the final. I think all three of them can take gold medals."
Jeannette Kwakye on a world record for the USA women's 4x100m relay team
"It was a brilliant performance. The girls were obviously on fire because they ran a fantastic heat at 41:65, which was just off the world record with their B-team, so I knew once they put in Allyson Felix and Carmelita Jeter the world record was under threat. But to knock half a second off the world record is quite phenomenal. Let's be honest, that's what people pay for. You pay to see fast times and people moving as quickly as possible. These USA girls just delivered that. It's just spectacular."
Jon Rdigeon on Mo Farah's hopes of a second gold medal in the 5,000m
"No athlete in the British team is fitter or more dedicated than Mo Farah, so if anyone could pull off what would be an absolutely historic double - a 5,000m and a 10,000m gold - it's Mo Farah. Compared with the 10,000m which is obviously already won, the 5,000m field is more competitive and more open. There's some fabulous East African athletes, particularly from Ethiopia and you've also got some really good Americans as well, people like Bernard Lagat who could be really dangerous if it's a slower race and comes to a sprint finish. Mo is going to have to run the sprint finish off some of those athletes if he's going to win.
"His chances are very good, he's moved on to another level and he looked so dominant in the 10,000m. Provided he's been able to freshen up over the last few days he probably starts tonight's race as favourite, but it's a big ask. Fingers crossed, but it won't be easy. It's going to be another epic race."
Edwin Moses on Usain Bolt and Jamiaca's bid to claim 4x100m relay gold
"It's going to be up to the baton exchanges as always. It doesn't matter how fast the competitors are; the United States have proved it many times when they've been in the same scenario and dropped the baton. I think the Jamaicans are much more professional because they grow up in a culture where eight-year-olds are passing batons regularly and as professional sprinters they've probably done it hundreds of times. I think they're a lot more professional about it."
See more on this story
Look back at what our experts had to say on day 14
Look back at what our experts had to say on day 13
Look back at what our experts had to say on day 12
Look back at what our experts had to say on day 11
Look back at what our experts had to say on day ten
Look back at what our experts had to say on day nine
Look back at what our experts had to say on day eight
Look back at what our experts had to say on day seven
Look back at what our experts had to say on day six
Look back at what our experts had to say on day five
Look back at what our experts had to say on day four
Look back at what our experts had to say on day three
Look back at what our experts had to say on day two
Look back at what our experts had to say on day one