Olympic Panel Reflect
Throughout the Games, the Sky Sports News Olympics Panel have brought you analysis across a wide range of sports. Now our experts reflect on London 2012...
Last Updated: 13/08/12 1:58pm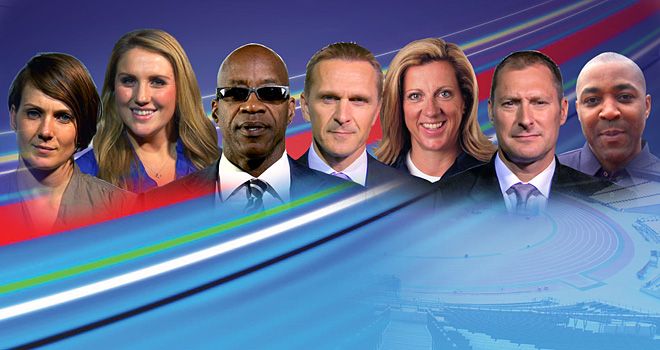 John Ridgeon on the performance of Britain's athletics team
"This has been a successful Games for our athletics team because gold is the currency that counts for so much more. Four gold medals for track and field is fantastic. But I think Charles van Commenee, the head coach, will be slightly disappointed - and so am I - that quite a lot of our athletes in medal zones - people who came in ranked third, fourth, fifth in the world - didn't step up and use the hometown advantage that they might.
"I thought we'd win eight to ten medals and we haven't. I do think there needs to be a review of why that didn't happen. In one or two areas there were still too many injuries, with the likes of Phillips Idowu and Goldie Sayers, who were expected to win medals but were injured, and there were one or two real disappointments, like the relays, for example. We didn't get a single relay medal and they should be bankers; the men's 4x100m have become a national embarrassment. So there is still some hard work to do."
Kelly Sotherton on Charles van Commenee's role
"We didn't get eight medals but got four golds. Charles did the right thing by Mo Farah who is now a double Olympic champion, which hadn't happened since Kelly Holmes, and there was the success of Greg Rutherford and Jessica Ennis. We had some great finalists too.
"But we also had some injuries to people such as Phillips Idowu, Dai Greene and Goldie Sayers, who could have won a medal if she hadn't ruptured a ligament in her elbow. They are some of the reasons why we didn't hit our medal tally, but that's not Charles' fault. You can't predict injuries. They would have taken our medal tally up to eight or more.
"There is a long way to go in athletics but he's starting to make inroads for a lot of people. We had three throwers in finals, including two hammer throwers, which hasn't happened ever, I don't think. Things are happening but he probably needs another four years. We've done better than we have done at the last four Olympics in track and field, so we are making improvements."
John Ridgeon on how Britain's athletics team can improve
"Super Saturday was stunning and I was privileged to be there. But it's difficult to say we should win four golds at every Olympics because it's so competitive - there are 204 nations competing. Where British athletics needs to build is to ensure they get more medals in Rio; some may be gold, some silver and bronze.
"The way to do that is carry on improving the medical side so we don't lose talented athletes to injury but also take a leaf out of what the cycling team do and really pull the team together into a tight squad.
"And to win relay medals we've got to get those people together more, training together more. We've also got some great young athletes - such as Holly Bleasdale and Lawrence Okoye - who were finalists but didn't quite cope with the pressure and those athletes need to be developed further so when they go to Rio they're ready to step up."
Kelly Sotherton's highlight
"David Rudisha's 800m world record was fantastic. He led from the start in an historic race. Andrew Osagie finished eighth in a time that would have won the final in the previous four Games, that's how high the standard was. I liked the way Rudisha ran, he knew how he wanted to do it and he made history. He got a bit overshadowed by Bolt's run in the 200m and I feel for him. It was all about Bolt but I thought his performance out-weighed Bolt's. He's a lovely guy, so down to Earth.
"Outside athletics I'd say Bradley Wiggins wining the time trial was another highlight. After his heroics in the Tour de France it was an amazing performance."
John Ridgeon on the future of the Olympic Stadium
"Atheltics doesn't really have a home equivalent to Wembley but hopefully the Olympic Stadium can become that home. The 2017 world athletics championships in that stadium are the next big focus for athletics in this country. Hopefully it will be worked out fine. Athletics is not big enough to pay for a stadium that size day in, day out so it needs a Premier League football team there - but it's important to have an iconic location and venue for the sport going forward."
Kelly Sotherton on legacy
"Rowing, equestrian...all sports need to be available to all kids from the start. If we could make them available to kids at a younger age we'd see them come through. Handball is an amazing sport and if we had kids playing it from six, seven or eight years old, we could go to an Olympics in eight years time and have a team who could be successful. Maybe then we'd have more champions in minor sports. It's important we raise the grassroots level in those sports."
Sally Gunnell on Team GB's successful women
"For so many years, I've always had to speak about why women aren't getting into sport and why we aren't so strong. But at these Games we've got Laura Trott, the rowers and, of course, Jessica Ennis, who has turned herself into this massive role model. Girls want to emulate her, become fit, develop muscles and have a six-pack like she does. This is something that we've been battling for so, so many years. Now Jess and all the girls who are part of Team GB are really helping to inspire other girls. It's so critical for so many people, so that's probably my highlight of the Games.
"The thing with Jess was how much pressure was on her. We knew she was in shape but she has had everybody following her for the last four years and the last year in particular. Knowing her quite well, sometimes I questioned if she was strong enough to deal with that. I thought it was an achievement above everybody else to come through those two days because of the emotional process she has had to go through. I could see it was a complete relief for her. I know that she has gone back up to Sheffield now and kept herself a bit quiet, which is probably what she needs just to get away from it and have a few days of taking it all in. It's just lovely to see someone achieve her goal with all that pressure."
Sally Gunnell on Mo Farah's magnificent achievements
"I did wonder if Mo could come back a week later after winning the 10,000m and win the 5,000m. Physically it takes a lot out of you but I knew he was really struggling mentally with dealing with the excitement of winning one gold medal already. Could he keep that focus? You could see in that race that so many people were trying to get him - it was almost all about him and getting him off the track!
"The thing about Mo is he's such a nice guy; he'd much prefer to be going on a little run on his own, so it will be really interesting to see how he deals with being in the public limelight because it really isn't him. I can sort of see him struggling with that but he's got so many years ahead of him and he's still got so much to achieve on the track and in the marathon. His is a name that is going to be around for so many years and he is somebody we are going to have so much pleasure watching."
Look back at what our experts had to say on day 16
Look back at what our experts had to say on day 15
Look back at what our experts had to say on day 14
Look back at what our experts had to say on day 13
Look back at what our experts had to say on day 12
Look back at what our experts had to say on day 11
Look back at what our experts had to say on day ten
Look back at what our experts had to say on day nine
Look back at what our experts had to say on day eight
Look back at what our experts had to say on day seven
Look back at what our experts had to say on day six
Look back at what our experts had to say on day five
Look back at what our experts had to say on day four
Look back at what our experts had to say on day three
Look back at what our experts had to say on day two
Look back at what our experts had to say on day one