Burdekin in top form
Jamie Burdekin is looking to upset team-mate and friend Peter Norfolk on the court at Eton Manor this week.
Last Updated: 29/08/12 5:09pm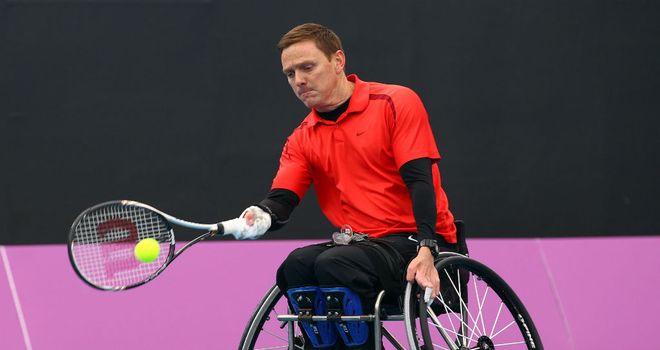 Jamie Burdekin will be thrilled to follow Great Britain wheelchair tennis team-mate Peter Norfolk into the London 2012 Paralympic Games opening ceremony on Wednesday evening - but then will be seeking to beat his compatriot on the court.
Two-time Paralympic champion Norfolk, known as the 'Quadfather', is the flagbearer set to lead the British team into the Olympic Stadium for the opening ceremony of the XIV Paralympics.
Burdekin will be delighted to follow his friend into the extravaganza before the duo turn rivals at Eton Manor in the Quad singles competition.
Peaking
The 32-year-old from Liverpool said: "He's been my mate for years and there's no one on the team more proud than myself.
"As good as he is I'm looking to upset him this week. Last time we played I beat him. I took him out this year and I took the world number one, David Wagner, out as well.
"I'm peaking at the right time and hopefully people are starting to worry about me when I go on court. I've trained for the gold."
Eclectic show
Burdekin was speaking after Britain's 300-strong Paralympic team were officially welcomed to the London 2012 athletes' village with an energetic show where they were declared champions even before competition commences.
The British team were among the last of the 4,280 competitors from 166 nations to be greeted by an eclectic show of music - including an adapted version of Queen's 'We are the champions' - and dance as Olympics minister Hugh Robertson and London mayor Boris Johnson watched on.
Goalball player Joe Dodson enjoyed the reception which gave him a taster of an opening ceremony which he will miss. The British team are in action in the Copperbox at 9am on Thursday morning against Lithuania.
Dodson, competing at his first Games, added: "It was very captivating and a good advert for what the Games is going to be - very energetic and very loud.
"We play at nine o'clock on Thursday morning. We have to be up at six o'clock. We've got the closing ceremony where we know we definitely will be and hopefully, if all things go right, with a medal round the neck, but we have to take every game as it comes."