Baker rises to the top
Natasha Baker clinched Great Britain's first equestrian gold medal of the 2012 Paralympic Games.
Last Updated: 01/09/12 2:53pm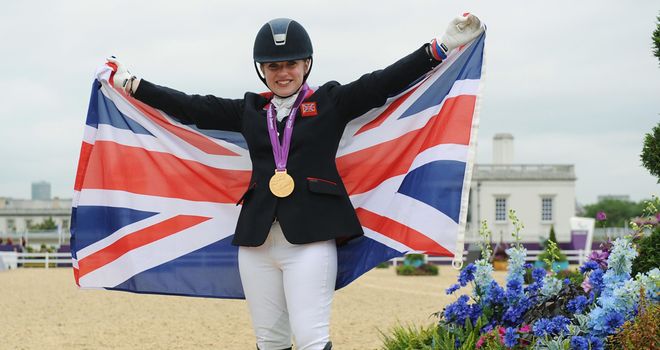 Natasha Baker clinched Great Britain's first equestrian gold medal of the 2012 Paralympic Games.
The 22-year-old, in her first Paralympics, triumphed in the Grade II individual dressage championship at Greenwich Park on Saturday.
Baker, from Uxbridge in Middlesex, built superbly on her success at last year's European Championships, when she took the individual and freestyle titles.
She scored a Paralympic Grade II record 76.857% on Cabral to claim the title, but only after a powerful twin German challenge fell just short.
Defending Paralympic champion Britta Napel posted 76.048% for second on Aquilina 3, with Angelika Trabert and Ariva-Avanti (76.000%) third.
"This is just the most incredible feeling in the world, Baker said. "And I get a post box and stamps now!
"This means absolutely everything. From the age of 10 I said I would come to a Paralympic Games and win a gold medal.
"But to come to my first Games and win gold, I never expected that in a million years.
Incredible
"I had great preparation last year, winning golds at the Europeans, and all of the support I've received has been been amazing. My phone battery is probably flat already.
"My horse is just a dream. I am so proud of him. I had an early draw today, and I stayed out the back for a long time and was texting my boyfriend Sam, who was among the crowd watching, to see what was happening.
"It was close, and I have literally got no nails left."
Baker, who is not riding as a British team member but an individual, will now concentrate on Monday's Grade II freestyle competition and the chance of a second gold.
"Hopefully, I can go out on Monday and do the same thing again. That would be incredible."
Baker's success is the first of an expected gold rush for Britain's dressage quintet of Baker, Lee Pearson, Sophie Wells, Deb Criddle and Sophie Christiansen.
Pearson contests the Grade Ib individual event, in which victory would give him a 10th Paralympic gold medal of his stellar career.