Simmonds breaks record
Ellie Simmonds continued her outstanding form with a world record in her 200 metres individual medley heat swim.
Last Updated: 03/09/12 11:45am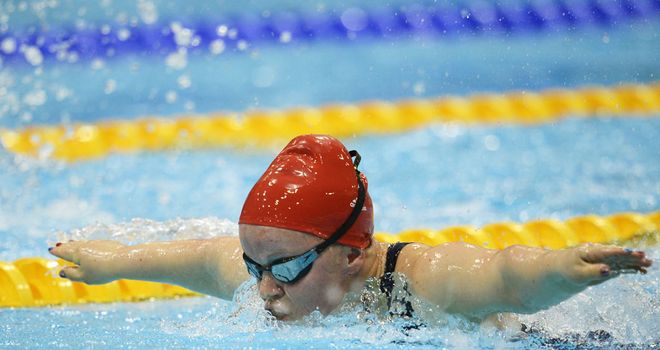 Ellie Simmonds continued her oustanding form in the pool with a world record in her 200 metres individual medley heat swim on Monday morning.
The British swimmer is going for her second gold medal at the London 2012 Paralympic Games after a thrilling victory in the 400 metres on Saturday.
Simmonds was a class apart in her race, coming home the best part of 25 metres ahead of team-mate Natasha Jones in a time of three minutes, 06.97 seconds - 1.13secs inside her own world mark from March when she became the first swimmer to set a global record in the Aquatics Centre.
Jones finished nearly 10 seconds behind with another Briton Liz Jones back in fourth another 12 seconds further back.
A delighted Simmons said afterwards: "I wasn't going for a world record, I was actually going for the Paralympic record but I was just going in there to feel the stroke.
"When I walk out the crowd is amazing, that definitely gives me a big buzz. I just can't wait to race tonight. I am quite shocked with that time.
"When I was at the finish I couldn't actually see what (the time) was, I had to ask someone.
On top form
"I'm really pleased with a two-second PB in the heats. It's good to be on top form at the biggest Paralympic Games of my life."
Simmonds will be a red-hot favourite to win the event in this evening's final, with the first heat having been won by Germany's Verena Schott in 3:16.63.
Jones certainly believes her team-mate will collect her second gold, stating: "I tried to keep up with Ellie but you can't keep up with someone as amazing as her.
"She's a once in a lifetime."
London is Jones' fourth Paralympics after she made her debut in Sydney with double gold in Athens four years later.
This will be the final Games for the 27-year-old and she said: "You can't compare this Games with Athens and Beijing: each has been different.
"But this has been phenomenal. When I came out of my swim on Saturday (S6 400m freestyle) I just wanted to cry, I was so emotional."
Liz Johnson also qualified in seventh to make it three Britons into the final.