David Weir reflects on his success at the London 2012 Paralympic Games
Paralympic legend David Weir admits he is still pinching himself after a 2012 to remember.
Last Updated: 11/12/12 3:54pm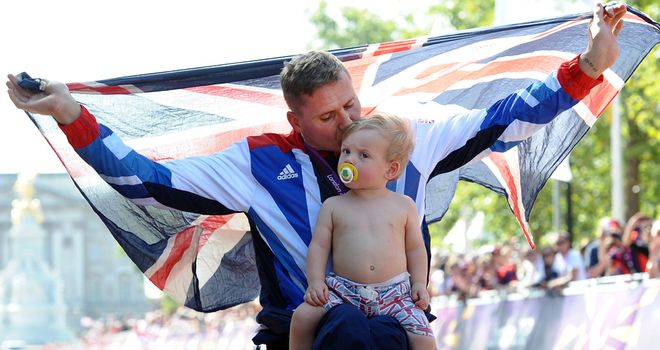 The 33-year-old from Wallington, Surrey, won four gold medals at the London Paralympic Games, over nine days and seven races totalling 35.3 miles.
Weir admitted: "I still feel sometimes it's not happened. Someone's going to wake me up and I'm still dreaming. The way it went, everything was just perfect. It feels like fiction.
"It feels like I've sat down and read a great book on a sportsman that's done something special. What a great story to read."
Weir's first Games were in Atlanta when he was aged 17, yet he became a hero as the nation marvelled at the power of the Paralympics during the summer of 2012.
The results were a reward for his talent, perseverance and hard work, something which is similar to another athlete whom he admires greatly.
Weir was determined to finish the London 2012 Olympic and Paralympic Games with victory after being inspired by Bradley Wiggins' Tour de France triumph at the start of the summer.
On September 9, the final day of the London 2012 showcase, the six-time London Marathon champion took to the streets of the capital targeting a fourth gold.
Roared on by thousands of fans, friends and family, Weir prevailed over 26.2 miles.
Weir, nicknamed the 'Weirwolf', added: "I just dreamt of winning the last race of the whole of 2012.
"That's all I kept dreaming about, for the last year, that if I win that race on that Sunday down The Mall, it would stay in people's minds forever and my mind forever."
Special
The moment which followed, with his son Mason on his lap and gold medal round his neck, pregnant partner Emily and parents watching, was "surreal".
Weir went on to perform flag-bearing duties at the closing ceremony along with cyclist Sarah Storey, who also had a haul of four gold medals, but he has since had time to reflect. To add to this, Emily has also given birth to the couple's daughter, Tillia Grace London Weir.
He continued: "I've only recently looked back at a DVD that my mum's friend put together - all my races, all my medal ceremonies, my clips of TV appearances afterwards.
"I just sat down for two days and watched it straight. There was nothing else on telly; it was just me. Then I started to realise what I achieved was special."
The foundation for his achievements was based on hard work and despite shoulder problems which meant Weir was short of confidence entering the Games; he knew he was a big championship racer.
The athlete who trains at St Mary's College, Teddington, enlisted the help of a group of cyclists for his road regime through Richmond Park. This aided his stamina, while he also perfected his tactical skills.
After winning 5,000m gold, Weir's confidence ascended. He said: "All I wanted was one gold medal in my home Games, and I got it on the first night.
"I just wanted to get a good start and I did it in the first final; I felt relieved and I could relax into the next races."
He went on to successfully defend his 800m - on Thriller Thursday - and 1500m titles and then it was onto the marathon.
Future
However, Weir is not finished yet and his next target is finishing first on The Mall. Weir is pursuing a record seventh London Marathon victory in April.
He said: "Hopefully I haven't lost too much - but I think I have the amount of glasses of wine I've been drinking."
Earlier this year, a fifth Games in Rio de Janeiro was not on the agenda, however he has not ruled out the possibility.
He said: "The only thing is mentally can I be driven for another four years and is it going to be as good as London? Not really. It won't feel as special as London."
Weir is Wiggins' nomination for the Sports Personality of the Year award and is among three Paralympians on 12-strong shortlist.
The destination of Weir's vote will come as no surprise - "Bradley" he said. "He's a special athlete."