OBEs for Ellie Simmonds and Sophie Christiansen in the New Year Honours list
Ellie Simmonds, the poster girl of this year's Paralympic Games, has revealed her pride at being awarded an OBE.
Last Updated: 29/12/12 3:48am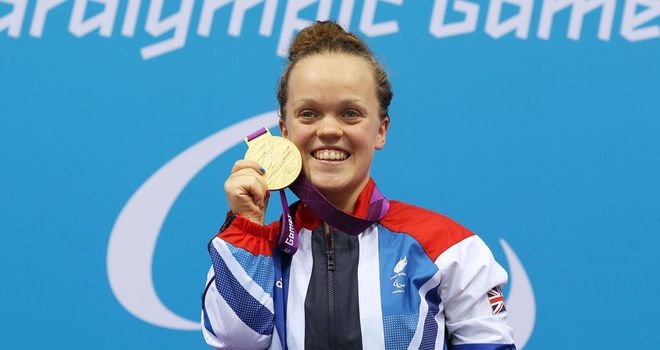 The 18-year-old won two more golds at London 2012 making her a four-time Paralympic champion after her breakthrough successes in Beijing four years ago.
Simmonds, who has Achondroplasia dwarfism, won four medals and broke two world records at London 2012, bringing home gold in the S6 400m freestyle and SM6 200m individual medley.
She said: "It's been a great honour to be included in the list which caps an amazing year for me personally and for British sport."
Standing alongside sprint champion Jonnie Peacock, Simmonds also helped to extinguish the Paralympic flame at the London 2012 closing ceremony.
Her quest for London 2012 gold was one of the British public's most anticipated event of the Paralympic Games, and she was one of three Paralympic athletes - alongside cyclist Sarah Storey and wheelchair racer David Weir - to be shortlisted for the coveted Sports Personality of the Year award.
There is recognition, in the form of an MBE, for Simmonds' swimming team-mates Josef Craig, Jonathan Fox, Heather Fredriksen and Oliver Hynd.
There was also an OBE for one of the other major success stories of the Paralympic Games, equestrian star Sophie Christiansen.
Christiansen, who suffers from cerebral palsy, was honoured with an MBE for services to disabled sport after the 2008 Paralympics in Beijing, where she won two golds, but she went one better in London with a treble in the dressage arena.
Her team-mates Natasha Baker, Deborah Criddle and Sophie Wells are all honoured with MBEs.
Also receiving MBEs are archery star Danielle Brown, sailor Helena Lucas and rowers Pam Relph, Naomi Riches, James Roe, David Smith and Lily van den Broecke.