Blogs & Opinion
Features:
Features: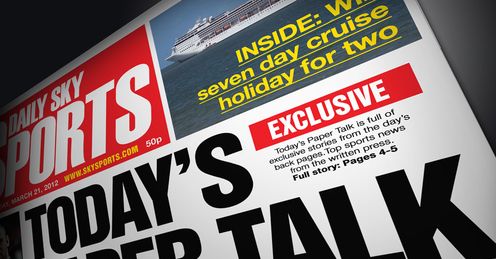 Features
Follow the latest from the written press with the best gossip and speculation from the papers.
Other Football Experts:
Latest Posts in Football:

Ray Wilkins
Ray Wilkins says Wayne Rooney is the "standout candidate" for the England captaincy....

Jamie Carragher
Jamie Carragher says there's no natural replacement for Steven Gerrard in the England team....

Martin Tyler
Steven Gerrard can inspire the next generation of England stars even in retirement, says Martin Tyler....
Latest News
Frank Lampard to be unveiled in USA, Gylfi Sigurdsson moves to Swansea, while Spurs sign Ben Davies and Michel Vorm.
Wayne Rooney, Reece James and Ashley Young all scored twice as Manchester United beat LA Galaxy 7-0 in Pasadena.
Gareth Bale says Real Madrid are targeting an even bigger trophy haul this season.
Frank Lampard's move to New York City is expected to be confirmed on Thursday afternoon.
Tottenham have signed Swansea duo Ben Davies and Michel Vorm, with Gylfi Sigurdsson moving in the opposite direction.
Features

Following a season that left some in the stands and the board room dissatisfied with West Ham's efforts, the appointment of Teddy Sheringham as an attacking coach was seen as a symbol of a new era of intent. But the signs are that Sam Allardyce will continue to do things his way.

With Joe Hart celebrating title success with Manchester City after five consecutive wins to finish the season, it is easy to forget that for the second campaign in a row the England goalkeeper had struggled.

"Why put another layer of gold plate on the Bentley when you are losing the entire engine?"