Blogs & Opinion
Johnny Nelson:
Opinion Archive:
October (1 post)

September (3 posts)

May (4 posts)

April (5 posts)

March (4 posts)

February (3 posts)

January (3 posts)

December (4 posts)

November (2 posts)

October (3 posts)
Johnny Nelson: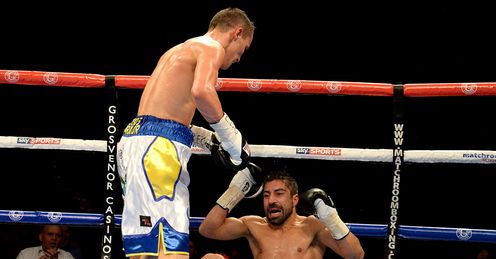 Johnny Nelson
Johnny Nelson believes Josh Warrington's old-school ascent can't be questioned - and the world title may be next.
Other Boxing Experts:
Latest Posts in Boxing:

Jamie Moore
Luke Campbell is unbelievable but Tommy Coyle can make him sink or swim, says Jamie Moore....
Latest News
They will walk the walk on November 22 so Nathan Cleverly and Tony Bellew continue to talk the talk...
On the day boxing marks 40 years since "The Rumble in the Jungle" it has been revealed the ring used has been stolen.
Tony Bellew has branded Nathan Cleverly a predictable fighter and warned him to expect a painful surprise.
Nathan Cleverly insists he will not be intimidated by Tony Bellew's home crowd and plans to silence his rival's fans.
Matthew Macklin hopes to seal a world title fight with Miguel Cotto if he can beat Jorge Sebastian Heiland.
Features

Welcome to the Ringside Toe 2 Toe podcast, an online offering from skysports.com bringing you the latest news and views from the world of boxing.

Sport can be cruel at times, but it can also offer us moments of sheer, unadulterated joy. As ever on a Monday, we've put together a compilation of the best and worst moments that have taken place around the world over the last week.

It is not a unique dream. In fact, for almost every youngster who walks into a boxing gym for the first time, the ultimate ambition and goal - no matter how unrealistic it might be - is to become a professional world champion.