Blogs & Opinion
Features:
Features: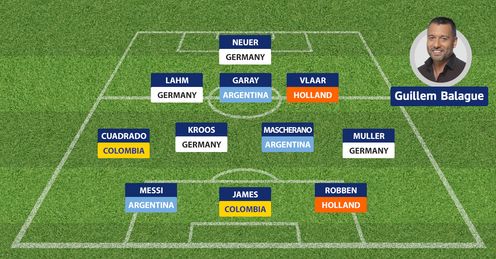 Features
Guillem Balague has picked his World Cup XI - but do you agree with his selections?
Other Football Experts:
Latest Posts in Football:

Ed Chamberlin
Ed Chamberlin previews Super Sunday's tactical battle between Louis van Gaal and Jose Mourinho....

Jamie Carragher
Jamie Carragher expects Liverpool to sell misfiring striker Mario Balotelli before the start of next season....
Latest News
Updates from tonight's games, kicking off with Lille v Everton in Group H, with Celtic and Tottenham in action later on Thursday.
Former Barcelona goalkeeper Victor Valdes is training with Manchester United as he recovers from a serious knee injury.
Liverpool manager Brendan Rodgers says he has dealt with Mario Balotelli's shirt-swap against Real Madrid.
Everton supporters were caught up in trouble in Lille ahead of Thursday's Europa League game in the French city.
Arsenal are a 'million years from being good enough' and must strengthen their squad, says Paul Merson.
Features

Win portraits of Andres Iniesta and Cristiano Ronaldo!

When you've been outclassed as Liverpool were against Real Madrid, it's understandable to conclude that the outrage over some shirt-swapping should be dismissed as a mere distraction obscuring rather bigger problems.

Real Madrid host Barcelona in the first El Clasico of the season on Saturday, live on Sky Sports 5 at 5pm. Here, Spanish football expert Guillem Balague picks a combined XI of Real and Barca players. Do you agree with his selections?