Blogs & Opinion
Features:
Recent Comments:
"Jamie, superb article as always! I have to say that, as always, you're spot on. Arsenal have no momentum going into the last 5 games and i can't see them getting the results they ... " View all comments
"It's been the same old season for Arsenal, throwing away silly points at important moments in the season. Mers is right, out hopes of landing the title are over (again) and at the same ... " View all comments
"I'm a big fan Chris, great column as usual. I'm one of many happy baggies fan, who are hailing Roy Hodgson for the work he has done. Firstly under Di Matteo we played good football but ... " View all comments
Features: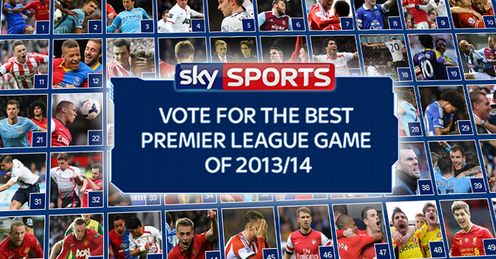 Features
Vote for the best Sky Sports Premier League game of 2013/14 – and we'll replay the best ones on air.
Other Football Experts:
Latest Posts in Football:

Martin Tyler
Which letter surname gets the most goals? Who has made the most passes? Martin has the stats......

Guillem Balague
Guillem Balague says Real Madrid's poor football judgement has left them weaker than last season....

Alan Smith
Alan Smith says many Man Utd fans will be upset to see Danny Welbeck move to Arsenal....
Latest News
Aston Villa seal Tom Cleverley loan, Cesar Azpilicueta signs new Chelsea deal and Wayne Rooney welcomes Radamel Falcao.
Manchester United boss Louis van Gaal insists he has no regrets about taking the job at Old Trafford this summer.
John Stones has been named in England's starting line-up for Wednesday night's friendly against Norway.
Radamel Falcao can fire Manchester United to the Premier League title this season, says Dwight Yorke.
England captain Wayne Rooney claims Manchester United have made a statement of intent by bringing in Radamel Falcao.
Features

Still not had your transfer fix? There are still players out there looking to find a new club this summer...

The globalisation of football is an opportunity for clubs savvy enough to identify talent from abroad. However, with players being expected to adapt to a new country, the risks are increased in line with the reward.