Blogs & Opinion
Features:
Recent Comments:
"Jamie, superb article as always! I have to say that, as always, you're spot on. Arsenal have no momentum going into the last 5 games and i can't see them getting the results they ... " View all comments
"It's been the same old season for Arsenal, throwing away silly points at important moments in the season. Mers is right, out hopes of landing the title are over (again) and at the same ... " View all comments
"I'm a big fan Chris, great column as usual. I'm one of many happy baggies fan, who are hailing Roy Hodgson for the work he has done. Firstly under Di Matteo we played good football but ... " View all comments
Features: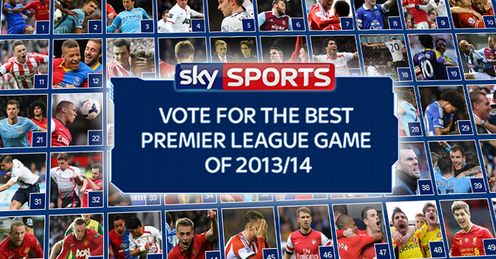 Features
Vote for the best Sky Sports Premier League game of 2013/14 – and we'll replay the best ones on air.
Other Football Experts:
Latest Posts in Football:

Kevin Phillips
Leicester forwards coach Kevin Phillips analyses each of their five goals against Manchester United....

Martin Tyler
Who's played for the most teams? Which nation gets most goals? Martin Tyler has the stats......

Guillem Balague
Guillem Balague explains how Lionel Messi and Cristiano Ronaldo are playing new roles this season....
Latest News
Liverpool held their nerve to see off Middlesbrough 14-13 on penalties in the third round of the Capital One Cup.
Arsenal were sent crashing out of the Capital One Cup in the third round after 2-1 home defeat to Southampton.
Swansea claimed their first-ever victory over Everton to reach the last 16 of the Capital One Cup with a 3-0 win.
Marc Muniesa was Stoke's unlikely hero as his two goals secured a 2-1 victory over Sunderland in the Capital One Cup.
Brendan Rodgers praised Liverpool's character as they prevailed in an epic Capital One Cup shoot-out with Middlesbrough.
Features

LIVERPOOL V MIDDLESBROUGH

Wednesday's Capital One Cup tie between Tottenham Hotspur and Nottingham Forest will no doubt stir memories for supporters of a certain vintage. The teams have played each other numerous times since, but this will always be remembered as a rerun of the 1991 FA Cup Final.

Sky Sports caught up with MK Dons duo Lee Hodson and Samir Carruthers to talk about ambitions for the season, manager Karl Robinson, hot prospect Dele Alli, beating Manchester United and who would win in a FIFA duel.