Blogs & Opinion
Features:
Recent Comments:
"Jamie, superb article as always! I have to say that, as always, you're spot on. Arsenal have no momentum going into the last 5 games and i can't see them getting the results they ... " View all comments
"It's been the same old season for Arsenal, throwing away silly points at important moments in the season. Mers is right, out hopes of landing the title are over (again) and at the same ... " View all comments
"I'm a big fan Chris, great column as usual. I'm one of many happy baggies fan, who are hailing Roy Hodgson for the work he has done. Firstly under Di Matteo we played good football but ... " View all comments
Features: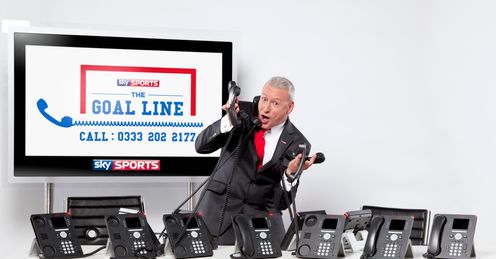 Features
Jim White is waiting to reassure fans pining for the Premier League that Football. Is. Coming.
Other Football Experts:
Latest Posts in Football:

Guillem Balague
Athletic, Sevilla and Valencia haven't yet got what it takes to crack the top three, says Guillem Balague....

Gary Neville
Gary Neville says Newcastle boss Alan Pardew is suffering for failing to sign enough experience....

Graeme Souness
Should Costa start? Why was Hart dropped? Read Graeme Souness' Champions League preview....
Latest News
Sky sources understand that Alan Pardew's job as manager of Newcastle United remains safe for the time being.
Sporting Lisbon host Chelsea at the Estadio Jose Alvalade in the Champions League with both chasing a first Group G win.
Premier League champions Manchester City welcome Roma to the Etihad Stadium for their Champions League Group E clash.
Olivier Giroud and Mikel Arteta are both reportedly set for new Arsenal deals, while Craig Dawson commits to West Brom.
Manchester United forward Angel di Maria has told Argentine radio that he plans to return to his home country one day.
Features

"If we win all nine matches, Zenit will be champions." The words of Andre Villas Boas upon being named Zenit St Petersburg manager in March seemed wildly optimistic given the circumstances.

If the country's island mentality dictates that Zlatan Ibrahimovic had to score four goals in an international friendly for Sweden before having his genius recognised in England, then Francesco Totti really is in trouble. The Roma icon's record on English soil is bewilderingly bad.

Some have retired, others are back in South America. One has even found his way to the Indian Super League, while another has opted for the less exotic climes of Leicester. Here we remember Inter's Champions League winning squad from 2010...