Blogs & Opinion
Features:
Recent Comments:
"Jamie, superb article as always! I have to say that, as always, you're spot on. Arsenal have no momentum going into the last 5 games and i can't see them getting the results they ... " View all comments
"It's been the same old season for Arsenal, throwing away silly points at important moments in the season. Mers is right, out hopes of landing the title are over (again) and at the same ... " View all comments
"I'm a big fan Chris, great column as usual. I'm one of many happy baggies fan, who are hailing Roy Hodgson for the work he has done. Firstly under Di Matteo we played good football but ... " View all comments
Features: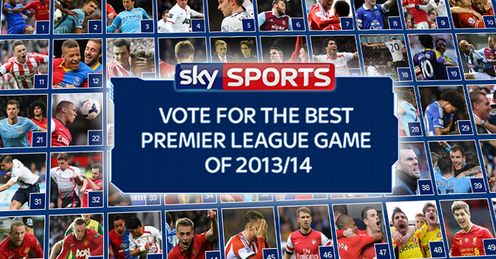 Features
Vote for the best Sky Sports Premier League game of 2013/14 – and we'll replay the best ones on air.
Other Football Experts:
Latest Posts in Football:

Jamie Redknapp
Diego Costa has shown the impact he can have at Chelsea, but injuries are a worry, says Jamie Redknapp....

Gary Neville
Arsenal must sign a replacement for injured Olivier Giroud if they want to win the title, says Gary Neville....

Jeff Stelling
Jeff Stelling is worried that headline-making Leeds could end up slipping back into League One. ...
Latest News
Chelsea agree to loan Fernando Torres to AC Milan for two years, while Liverpool's Daniel Agger is linked with Brondby.
Chelsea striker Fernando Torres will have a medical at AC Milan on Saturday ahead of an agreed two-year loan deal.
Chelsea travel to Everton for Saturday Night Football, while Super Sunday features Tottenham against Liverpool and Leicester versus Arsenal.
Louis van Gaal has set Manchester United an initial target of a top-four finish in this season's Premier League.
UEFA has confirmed it is close to changing the seeding system for the group stages of the Champions League.
Features

Everyone agreed that Tottenham had acquired some fine players in the summer of 2013, but the notorious line that Spurs sold Elvis to buy the Beatles soon became a source of embarrassment. Not least because that cast young Erik Lamela as John Lennon, the most celebrated of the lot.

Saturday's opponents Chelsea might have expected Everton's Romelu Lukaku to come back to haunt them, but Jose Mourinho surely thought he'd seen the back of Samuel Eto'o. Instead he's back in the Premier League and eyeing another challenge in his remarkable career.

When it comes to the art of signing players, few did it better than Brian Clough and Peter Taylor. In the latter's book With Clough by Taylor he explained some of the science behind it in detailing how Nottingham Forest actively sought to buy players they perceived to have personal problems.