Blogs & Opinion
Features:
Recent Comments:
"It's been the same old season for Arsenal, throwing away silly points at important moments in the season. Mers is right, out hopes of landing the title are over (again) and at the same ... " View all comments
Features: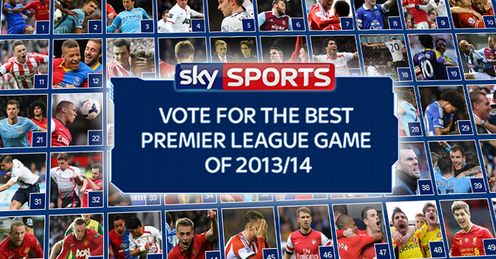 Features
Vote for the best Sky Sports Premier League game of 2013/14 – and we'll replay the best ones on air.
Other Football Experts:
Latest Posts in Football:

Paul Merson
Villa to beat Spurs and a draw in the Manchester derby... read what Paul Merson predicts this week....
Latest News
Louis van Gaal insists he has no reason to be jealous of Manchester City's squad ahead of Sunday's derby.
The Manchester derby takes centre stage on Sunday, with form sides Chelsea, Southampton and West Ham playing Saturday.
Manuel Pellegrini has denied feeling the pressure from recent bad results as City prepare for Sunday's Manchester derby.
Louis van Gaal has confirmed Wayne Rooney will play and will captain Manchester United in Sunday's derby against City.
QPR manager Harry Redknapp believes Chelsea counterpart Jose Mourinho can become "the greatest manager of all time".
Features

Yaya Toure has had his moments. There was the whipped strike against the crossbar against West Ham last weekend and the deadlock-breaking effort late on at Aston Villa. It's not that he's failing to contribute. It's that this contribution is so diminished by comparison to last season's heroics.

Johnny Phillips speaks to former Man City midfielder Paul Lake ahead of the Sky Live Super Sunday Manchester derby this weekend - watch the full feature on Soccer Saturday.

"Lads, it's Tottenham."