Blogs & Opinion
Features:
Features: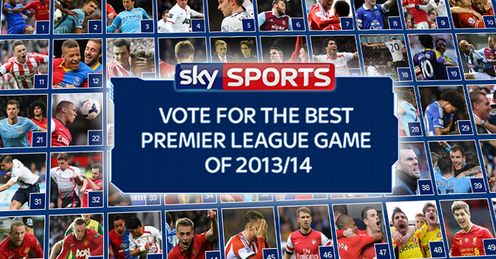 Features
Vote for the best Sky Sports Premier League game of 2013/14 – and we'll replay the best ones on air.
Other Football Experts:
Latest Posts in Football:

Jamie Redknapp
Jamie Redknapp isn't concerned after the English clubs made their worst ever Champions League start....

Martin Tyler
The best goalscoring streaks and the Premier League's oldest and youngest... here's Martin!...

Paul Merson
Paul Merson says Arsenal's defeat in Dortmund shows why silverware could be beyond them this year....
Latest News
Chelsea manager Jose Mourinho says Diego Costa is not yet ready to start more than one match in a week.
Arsenal linked with Iker Casillas, while Chelsea and Liverpool said to be keen on Bayer Leverskusen's Julian Brandt.
Jerome Boateng's deflected late strike against his former side was enough for Bayern Munich to beat Man City 1-0.
Mikel Arteta admits to being 'bitterly disappointed' after Arsenal fluffed their European lines at Borussia Dortmund.
Brendan Rodgers hopes Mario Balotelli will take inspiration from the likes of Luis Suarez as he settles at Liverpool.
Features

Vincent Kompany said earlier this week that Yaya Toure was "not far off" signing a new Manchester City deal; that's considerably closer than he got to any Bayern Munich midfielder on Wednesday night.

Not many Englishmen know Dutch football better than Rob McDonald. The former Newcastle United striker spent the best part of eight years in the country as a player, winning the Eredivisie title during his time in Eindhoven with a PSV team that included the genius of Ruud Gullit.

It was an edgy evening for Liverpool after five years away from the European Cup and it took injury-time drama for minnows Ludogorets to be beaten on Merseyside.