Blogs & Opinion
Features:
Features: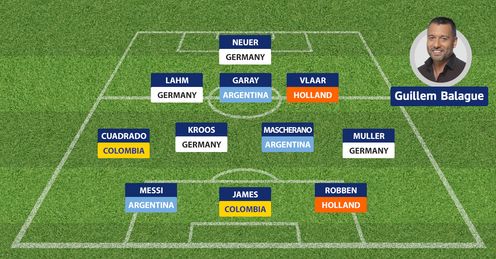 Features
Guillem Balague has picked his World Cup XI - but do you agree with his selections?
Other Football Experts:
Latest Posts in Football:

Alan Smith
Arsenal are playing with one arm tied behind their back until they invest in a striker, says Alan Smith....

Jamie Redknapp
Jamie Redknapp says Loic Remy will get nowhere near the Chelsea first team with Diego Costa around....

Gary Neville
Arsenal must sign a replacement for injured Olivier Giroud if they want to win the title, says Gary Neville....
Latest News
Radamel Falcao in Premier League link, Real Madrid target Javier Hernandez, Valencia want Alvaro Negredo and Chelsea sign Loic Remy.
Arsenal boss Arsene Wenger has refused to rule out a move for a new striker before the close of the transfer window.
Steven Gerrard knew Luis Suarez would 'engineer' a way out of Liverpool after biting Giorgio Chiellini at the World Cup.
Monaco striker Radamel Falcao has been the subject of frenzied speculation as the transfer window enters its final day.
Mario Balotelli made a winning debut as Liverpool produced a dazzling performance to defeat Tottenham Hotspur 3-0 at White Hart Lane.
Features

Sky Sports casts an eye over this weekend's Premier League action and picks out some of the key highlights.

Type 'Christian Eriksen free-kicks' into your internet search engine and you will not be disappointed.